Frank Murkowski back in Alaska on mission to sabotage AGIA
January 30, 2008 7:15 AM - Posted by Dennis Zaki
You know Conoco/Phillips is getting desperate when they hire Frank Murkowski to do their dirty work.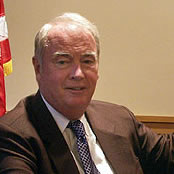 There is only one reason Murkowski is back in Alaska - besides a payoff - and that is to sabatoge governor Palin's AGIA, with the backing of Conoco.
Remember the Jim Bowles/Conoco - Allen conspiracy to stop the PPT?

After repeatedly lying to Alaskans in the fall of 2006 by saying there was a the drop-dead date for starting a gasline, Frank suddenly interjects himself as Alaska's savior. "I feel as an Alaskan that I'm gonna do everything I can to help bring this gas." Frank told KTUU. Murkowski by the way - lives in Utah.
Something slimey is going on here.
Related stories:
Murkowski now rated the most unpopular governor in entire country
Lisa Murkowski Exposed In Kenai River Land Scam
---