Tom Anderson sentenced to five years in federal prison
October 15, 2007
Anchorage, Alaska - Former Alaska state Rep. Tom Anderson received a stiff sentence of five years in prison Monday for his conviction July 9th on seven federal counts of conspiracy and bribery.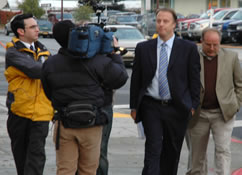 Anderson, an Anchorage Republican, who last week begged the judge for mercy, showed little remorse or guilt when he said during his sentencing hearing "I do think things were taken out of context", he also said "I've had all of these emotions, fear, anger, depression." Not mentioning remorse or guilt.
Assistant U.S. Attorney Joe Bottini said Anderson deserved a tough sentence because he solicited a bribe, betrayed his public trust and actively took part in concealing the source of his money.
Tom Anderson is the son of a former director of the Alaska State Troopers.
U.S. District Court Judge John Sedwick said about Anderson "I have no idea how Mr. Anderson's apple fell so far from the tree, but it did," Sedwick said.
More of the story from KTUU.com
AlaskaReport's ongoing Alaska corruption coverage:
AlaskaReport.com's Corrupt Bastard Club Stories
Corrupt Republican Anderson begs for mercy
Pete Kott guilty of bribery, conspiracy, and extortion
Kott Jr. unbelieveable on witness stand
Ted Stevens implicated in bribery during Kott trial
Legislators still stumping for VECO - By Ray Metcalfe
© By Dennis Zaki - AlaskaReport News
---