March 11, 2008
Kohring lawyer pushing to submit new evidence
Former lawmaker Victor Kohring, convicted November 1, 2007 of conspiracy, attempted extortion, and bribery , is trying to submit a new piece of evidence in an attempt to obtain a new trial and overturn his multiple convictions.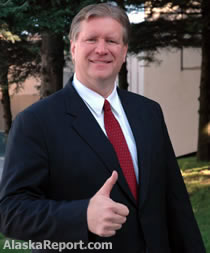 Days before his sentencing last month, Kohring's Seattle lawyer, John Henry Browne, claimed that U.S. District Court Judge John Sedwick should never have presided over the trial because Kohring introduced legislation that cost Sedwick's wife her state job years ago.

Kohring claims he and the judge's wife have an antagonistic past centered on Kohring's attempts, while a seated lawmaker, to cut the budget of the state department in which the judge's wife worked.

Federal prosecutors on the other hand are asking that Kohring's request for a new trial be denied due to false information supplied to the court by Kohring's lawyer.

"Kohring, at best, has tendered only rumors, innuendos, and unsupported allegations," prosecutors said in their 17-page filing.

Read Kohring Hearing Request (PDF)

Read Reply by Kohring to Goverment Response to Kohring Motion to Dismiss (PDF)

Read Letter by Kohring to Judge Sedwick's wife Deborah (PDF)

Kohring's sentencing has been delayed while these issues are sorted out. Federal prosecutors are seeking a five-year prison sentence.

AUDIO: Prosecutor Edward Sullivan during closing arguments on Kohring betraying the public's trust -
"He sold his oath and his office in exchange for personal gain"

AUDIO: Prosecutor Joseph Bottini on Kohring begging for money
"Kohring turned this guy (Allen) into a human ATM machine."

© By Dennis Zaki - AlaskaReport.com All Rights Reserved.
Kohring Related stories:
Prosecutors ask judge to ignore Kohring's showboating lawyer
Vic Kohring's lawyer trying to pull a fast one
Vic Kohring denied judge removal
FBI statement on Victor Kohring conviction
Kohring guilty of conspiracy, attempted extortion, and bribery
Vic Kohring resigns under pressure of indictments
Corrupt Bastard Member Vic Kohring "The Money Shot"
Convicted Alaska legislator Vic Kohring recorded by the FBI in a Juneau hotel suite rented by Veco CEO Bill Allen and Veco VP Rick Smith. Kohring visits Allen to beg for money, Allen hands it over - then later says "This is what I want you to do"

---