March 20, 2008
DOJ denounces Kohring's maneuvering
"Kohring's motions are neither meritorious nor serious, but are instead the strategic maneuverings of a defendant who had his day in court, was convicted by his peers, and will grasp at anything to postpone his seemingly inevitable incarceration"
By Dennis Zaki
Sorry, Vic. Too little, too late. That's the DOJ response to Victor Kohring's request to remove the judge from his case and get a retrial.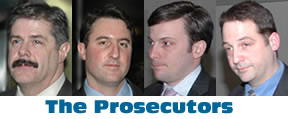 Prosecutors in the case said in a court filing Thursday that former Alaska lawmaker Kohring, convicted November 1, 2007 of conspiracy, attempted extortion, and bribery , is trying to weasel out of his conviction with last-minute smoke-and-mirror tactics by smearing U.S. District Court Judge John Sedwick.
The DOJ argument:
Kohring's motion for an evidentiary hearing (like his post-trial motion to dismiss ) can and should be seen for what it is: a belated attempt by a criminal defendant to postpone sentencing and interpose delay. What is most remarkable in the government's view is the means by which Kohring has chosen to implement this strategy. Confronted by the fact that he received extensive discovery in this matter, that he was given a full opportunity to be heard on his pre-trial motions, and that he was convicted by a fair and impartial jury after a thorough presentation of evidence, Kohring resorts instead to impugning the reputation of a well respected trial judge.
DOJ response to Kohring motions (PDF)
Kohring's accusations are misplaced. As officers of the Court, counsel for the parties must accept in good faith the representations made by the Court's Chief Judge, just as the Court accepts in good faith the representations made by counsel to it. Thus, when the Court represented to the parties that it has "no recollection of any conversations with [Mrs. Sedwick] relating to the actions defendant Kohring says he took or the responses he alleges she made", that representation should be accepted by the parties on its face. Government counsel does so not on blind faith (as Kohring suggests), but because we recognize - as the Court surely does - that counsel and the presiding trial judge are subject to a higher standard of duties and obligations, including the duty of candor and fairness. For the same reason, then, the parties should further accept the Court's additional representations that it: (1) has no recollection of any conversations with others relating to the actions defendant Kohring says he took or the responses he alleges [Mrs. Sedwick] made;" and (2) it has no recollection of Kohring's involvement with respect to the legislation which Kohring characterizes as having eliminated Mrs. Sedwick's position. The notion that the case must be transferred for an evidentiary hearing concerning the veracity of the trial judge's own representations is unwarranted, to say the least.
Kohring's Motion Is Untimely:
Kohring's request for an evidentiary hearing should be denied, too, because it was not raised in a timely manner. His motion to dismiss was filed on February 1, 2008 - nearly eight months after the trial judge was assigned to this matter, a full three months after Kohring reportedly saw Mrs. Sedwick in the courtroom on October 31, 2007, and just days before Kohring's sentencing hearing. Given that Kohring's motion to dismiss is belated, it logically follows that his separate request for an evidentiary hearing on that motion is time barred as well.
Read the entire Department of Justice response here (PDF)
---
AUDIO: Prosecutor Edward Sullivan during closing arguments on Kohring betraying the public's trust -
"He sold his oath and his office in exchange for personal gain"
AUDIO: Prosecutor Joseph Bottini on Kohring begging for money
"Kohring turned this guy (Allen) into a human ATM machine."
© By Dennis Zaki - AlaskaReport.com All Rights Reserved.
Kohring Related stories:
Kohring lawyer pushing to submit new evidence
Prosecutors ask judge to ignore Kohring's showboating lawyer
Vic Kohring's lawyer trying to pull a fast one
Vic Kohring denied judge removal
FBI statement on Victor Kohring conviction
Kohring guilty of conspiracy, attempted extortion, and bribery
Vic Kohring resigns under pressure of indictments
Corrupt Bastard Member Vic Kohring "The Money Shot"
Convicted Alaska legislator Vic Kohring recorded by the FBI in a Juneau hotel suite rented by Veco CEO Bill Allen and Veco VP Rick Smith. Kohring visits Allen to beg for money, Allen hands it over - then later says "This is what I want you to do"

---
---