May 6, 2008
Kohring denied request for juror interview
Convicted former Alaska Rep. Vic Kohring has been denied a motion by his attorney to interview a juror in the panel that convicted him.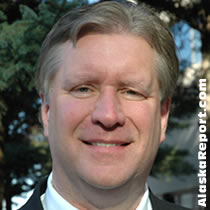 Kohring was convicted in November of bribery, conspiracy and attempted extortion.
U.S. District Court Judge John Sedwick on Monday ruled that each jury member was individually polled about their verdicts at the time of the verdicts, and had their chance then to speak.
Kohring's lawyer, John Henry Browne, claims that one juror has expressed remorse for the verdicts against Kohring and Browne wants to us an affidavit by the juror to gain leniency at sentencing on Wednesday.
Sedwick's Denial to Kohring (PDF)
From Sedwick's ruling
After the verdicts were read, the jurors were all individually polled and each responded that these were his or her true verdicts.

According to the motion, defense counsel wishes to interview "a juror from Mr. Kohring's trial in order to obtain information for sentencing about what the government actually proved at trial and the basis of the convictions." (Doc. 177 at p. 1) An unnamed juror allegedly advised John Davies, "a trusted confidant" of defendant, of "potential misconduct during the jury deliberations." (Doc. 177 at p. 5) There is no suggestion of any outside interference with the jury deliberations. Rather, Kohring's motion papers imply that there is some ambiguity, uncertainty or problem about what was actually proved at trial and perhaps some related error in the jury instructions.

By way of relief, defendant wants to obtain an affidavit from the unnamed juror to use at sentencing to explain what the jury did. (Doc. 177 at p. 8) Of course, what any one juror might say about the proof at trial is meaningless. It is the verdict of the jury as a whole which is of consequence. Moreover, even interviewing all of the jurors would be improper. With exceptions not relevant here, the common law rule that a juror's testimony cannot be used to impeach a jury verdict is the law applied in the federal courts. See, e.g., Tanner v. United States, 483 U.S. 107, 119-120 (1987). To the extent the motion is premised on error in the jury instructions, that is a matter which Kohring would have to pursue on appeal.

The motion at docket 177 is DENIED.
Kohring is to be sentenced May 8.
Kohring Related stories:
Kohring's lawyer Browne wants light sentence - Real light
Kohring lawyer pushing to submit new evidence
Prosecutors ask judge to ignore Kohring's showboating lawyer
Vic Kohring's lawyer trying to pull a fast one
Vic Kohring denied judge removal
FBI statement on Victor Kohring conviction
Kohring guilty of conspiracy, attempted extortion, and bribery
Vic Kohring resigns under pressure of indictments
---






---
AUDIO: Prosecutor Edward Sullivan during closing arguments on Kohring betraying the public's trust -
"He sold his oath and his office in exchange for personal gain"
AUDIO: Prosecutor Joseph Bottini on Kohring begging for money
"Kohring turned this guy (Allen) into a human ATM machine."
Corrupt Bastard Member Vic Kohring "The Money Shot"
Convicted Alaska legislator Vic Kohring recorded by the FBI in a Juneau hotel suite rented by Veco CEO Bill Allen and Veco VP Rick Smith. Kohring visits Allen to beg for money, Allen hands it over - then later says "This is what I want you to do"

© By Dennis Zaki - AlaskaReport. All Rights Reserved.