May 9, 2008
FBI statement on Victor Kohring sentence
"part of an ongoing investigation into public corruption"
Victor H. Kohring, a former elected member of the Alaska House of Representatives, has been sentenced to 42 months in prison, Assistant Attorney General Alice S. Fisher of the Criminal Division announced today. Chief U.S. District Judge John W. Sedwick for the District of Alaska also ordered Kohring to serve two years of supervised release following his release from prison.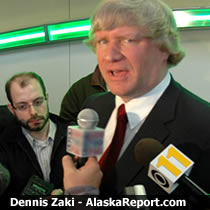 On Nov. 1, 2007, a federal jury in Anchorage convicted Kohring of bribery, attempted extortion, and conspiracy for corruptly soliciting and receiving financial benefits from VECO Corporation, a major Alaska oil services company, in exchange for performing official acts in the Alaska State Legislature on the company's behalf.
Evidence at trial, including more than 25 recordings of conversations involving Kohring and former VECO executives, showed that Kohring solicited bribes from, and took action to benefit the financial interests of, VECO while serving as a member in the state legislature. Kohring repeatedly agreed to lobby his colleagues and, if needed, cast votes in VECO's favor on a key petroleum production tax proposal pending before the Alaska legislature. In exchange, Kohring received multiple cash payments and solicited a $17,000 payment.
Kohring's case is part of an ongoing investigation into public corruption in the State of Alaska. The VECO executives who testified at trial, former Chief Executive Officer Bill J. Allen and former Vice President of Community Affairs and Government Relations Richard L. Smith, pleaded guilty in May 2007 to providing more than $400,000 in corrupt payments to public officials from the state of Alaska.
To date, there have been seven criminal convictions arising out of the investigation, including the convictions of Allen, Smith and Kohring. Thomas T. Anderson, a former elected member of the Alaska House of Representatives, was convicted in July 2007 and sentenced to five years in prison for extortion, conspiracy, bribery and money laundering for soliciting and receiving money from an FBI confidential source in exchange for agreeing to perform official acts to further a business interest represented by the source. Peter Kott, a former Speaker of the Alaska House of Representatives, was convicted in September 2007 and sentenced to six years in prison for extortion, bribery and conspiracy. In March 2008, James A. Clark, chief of staff to the former governor of Alaska pleaded guilty to conspiracy to commit honest services mail and wire fraud. Additionally, former Anchorage lobbyist William Bobrick pleaded guilty in May 2007 to felony public corruption charges.
This case was prosecuted by trial attorneys Nicholas A. Marsh and Edward P. Sullivan of the Criminal Division's Public Integrity Section, headed by Chief William M. Welch II, and Assistant U.S. Attorneys Joseph W. Bottini and James A. Goeke from the District of Alaska. The case is being investigated by the FBI and the Internal Revenue Service Criminal Investigative Division.
Kohring Related stories:
Kohring's lawyer Browne wants light sentence - Real light
Kohring lawyer pushing to submit new evidence
Prosecutors ask judge to ignore Kohring's showboating lawyer
Vic Kohring's lawyer trying to pull a fast one
Vic Kohring denied judge removal
FBI statement on Victor Kohring conviction
Kohring guilty of conspiracy, attempted extortion, and bribery
Vic Kohring resigns under pressure of indictments
---






---
AUDIO: Prosecutor Edward Sullivan during closing arguments on Kohring betraying the public's trust -
"He sold his oath and his office in exchange for personal gain"
AUDIO: Prosecutor Joseph Bottini on Kohring begging for money
"Kohring turned this guy (Allen) into a human ATM machine."
Vic Kohring speaks to media after being sentenced to 3 1/2 years in prison
Video by Kelly Walters for AlaskaReport
© By Dennis Zaki - AlaskaReport. All Rights Reserved.
---