May 30, 2008
Vic Kohring sent to California prison
Kohring got 3 1/2 years for bribery
Convicted Republican Vic Kohring will serve his 42-month federal prison sentence in California instead of Oregon as was recommended at sentencing earlier this month.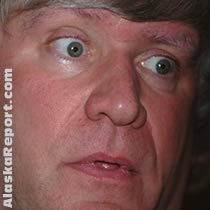 Former Alaska legislator Kohring was convicted in November of bribery, conspiracy and attempted extortion.
From the Mat-su Valley Frontiersman:
"Life is not good for me right now," Kohring said while at the Palmer courthouse Thursday. Kohring would only say he was at the courthouse to help a friend.

The change in prisons will see Kohring serving time at a minimum-security federal prison in Taft, Calif., about 120 miles north of Los Angeles. He contends the change was made by federal Judge John Sedwick to further hurt him.
Full story from the Mat-su Valley Frontiersman:
Kohring Related stories:
Victor Kohring sentenced to 42 months in prison
Kohring's lawyer Browne wants light sentence - Real light
Kohring lawyer pushing to submit new evidence
Prosecutors ask judge to ignore Kohring's showboating lawyer
Vic Kohring's lawyer trying to pull a fast one
Vic Kohring denied judge removal
FBI statement on Victor Kohring conviction
Kohring guilty of conspiracy, attempted extortion, and bribery
Vic Kohring resigns under pressure of indictments
---
---
AUDIO: Prosecutor Edward Sullivan during closing arguments on Kohring betraying the public's trust -
"He sold his oath and his office in exchange for personal gain"
AUDIO: Prosecutor Joseph Bottini on Kohring begging for money
"Kohring turned this guy (Allen) into a human ATM machine."
Vic Kohring speaks to media after being sentenced to 3 1/2 years in prison
Video by Kelly Walters for AlaskaReport
© AlaskaReport. All Rights Reserved.
---