Lobbyist Bill Bobrick charged in Alaska legislator scandal
May 15, 2007
Anchorage, Alaska - Bill Bobrick, an Anchorage lobbyist, has been charged with conspiracy related to a scheme to bribe former state Republican Rep. Tom Anderson.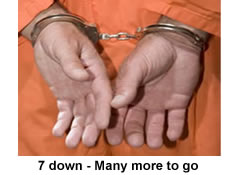 Bobrick is scheduled to appear Wednesday morning in an Anchorage District Court to plead guilty to conspiracy to commit extortion, bribery and money laundering.
According to reports, a government informant paid Bobrick who then created a phony corporation and website that was used to funnel money to Anderson.
Anderson and ex-senate president Ben Stevens took consulting contracts from oil-related firms, including VECO Corp., and evaded disclosing exactly what they do. Anderson has pleaded not guilty and is scheduled for trial next month.
Bobrick is now the seventh person to be charged in the corruption investigation.
© AlaskaReport News
---