FBI in Alaska closing in on Ben Stevens
May 9, 2007
By Dennis Zaki - With the indictments of Bill Allen and Rick Smith, the CEO and vice-president of VECO, and the arrests of four Alaska legislators, it is now just a matter of time before ex-Senate president Ben Stevens is arrested and exposed for what he is, a co-conspirator, and professional bribe-taker.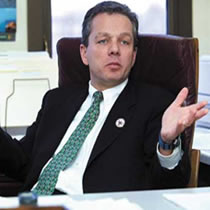 Veco's bribes of $243,250 to Stevens between 2002 and 2006 documented in charges against Allen precisely match the amount Stevens reported on his financial disclosures as consulting income to his company, Ben Stevens and Associates.
"Although Allen and Veco characterized these payments . as being for consulting services (to Ben Stevens), Allen acknowledges that in actuality the payments were in exchange for giving advice, lobbying colleagues, and taking official acts in matters before the legislature," the FBI said in a statement when Bill Allen was indicted.
Stevens, the son of yet-to-be-indicted Senator Ted Stevens, has also pocketed over $659,000 in illicit funds from the At-Sea Processors Association (APA) and other fisheries companies to serve as a "consultant" between 2000 and 2005. The APA, the Alaska Fisheries Marketing Board, and Senator Ted Stevens are all currently under FBI and IRS investigation.
Ray Metcalfe, a true Alaskan hero, has been reporting bribes to Ben Stevens for years while the Alaska Public Offices Commission looked the other way while shucking and jiving every excuse they could muster not to hold Stevens accountable.
Stevens did not seek re-election last year to "spend more time with his children."
© AlaskaReport News
Related Stories:
Ben Stevens Fined $150 & $150: APOC Blind to Corruption

Four more warrants issued as criminal probe intensifies after FBI raids on Alaska legislators

Alaska Senate president Ben Stevens has accepted bribes from seafood processors, according to Ray Metcalfe

Ted Stevens & Corruption: Move Over Duke Cunningham

Ted Stevens and Don Young Fail to Provide 'Honest Services'
---