Alaska Senate president Ben Stevens has accepted bribes from seafood processors, according to Ray Metcalfe
6/26/06
By Dennis Zaki - Ray Metcalfe, Chairman of the Republican Moderate Party, has accused Alaska Senate president Ben Stevens of bribery and money laundering. "Robbing Alaskans of their dividends, for the benefit of friends who pay him bribes was precisely what Alaska State Senate President Ben Stevens was repairing to do when I decided to start exposing his fraud."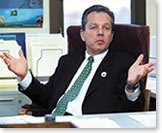 Read Metcalfe's documentation (PDF)
In a 2 1/2 hour hearing last Thursday at the Alaska Public Offices Commission (APOC), with Ben Stevens in attendence, Metcalfe laid out his argument that for years Ben Stevens has been accepting back door bribes through the cover of consulting fees and illicit payments. Both are felonies under Alaska state law. Metcalfe alledges that Steven's has been paid $923,507 over the years in payments through the processors, various kickbacks, and funneled through the Alaska Fisheries Marketing Board set up by his father, Alaska Senator Ted Stevens.
Metcalfe has accused the Alaska Attorney General David Marquez of sandbagging the investigation of Stevens in the past. He also alleges that Marquez has refused to return calls to witnesses he has provided and witnesses who have called him, who claim to have knowledge of money laundering, kickbacks and bribery. In an interview with AlaskaReport.com, Metcalfe said he feels confident that this time the APOC is seriously looking at investigating the facts he presented.

A follow up hearing is scheduled for Wednesday June 28th at 9:00am in Anchorage.

Repeated e-mails to Ben Stevens and his staff for comment were not returned.
Related Stories:
Ted Stevens & Corruption: Move Over Duke Cunningham

Ted Stevens and Don Young Fail to Provide 'Honest Services'

FBI in Alaska closing in on Ted Stevens' son Ben

Four more warrants issued as criminal probe intensifies after FBI raids on Alaska legislators
---