E-mail from a Kvichak sockeye salmon
July 17, 2006
"Hi John, I enjoyed reading your column as I checked in to get my "internets" at the head of the Kvichak. Good thing I was late returning, as it took Senator Ted's office 5 days to get the report "internetted" to me."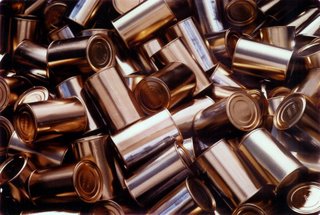 Maybe this is what the rumored black-market Alaska sockeye looks like in China
Must be because of all those guvmint filters and spam blocks the bureaucrats installed, and the darned anti-anthrax firewalls.
My cousin had no problem getting an internet from his Klamath girlfriend, who made it into the river safe this year after the bureaucrats ruined the river itself and using that as an excuse, pushed the fishermen off the ocean. She got on the Sacramento web hub and got out an internet in a matter of seconds, even though she was using the Blackberry she swallowed from the Russian trawler who dropped it overboard off Kamchatka last winter. But I have to say that these Alaska sandbar "tubes" that connect little fish like me to the world wide Web are fantastic, thanks to uncle Ted, the big fish, installing them so all us lowly sockeye can reach out in net neutrality.
Although I do worry about the set netters with a subsistence mentality, it was great to be able to return to Alaska this year. The ADF&G website showed my cousins came back about 25 percent stronger than usual. But if you had just asked me, I could have told you about the secret option we held to install a tracking pill behind our dorsals so that NOAA could watch to see if the Japanese fleet from Hokkaido captured us in the Russian zone.
But thanks to Al Gore's man-caused videography and Lisa Murkowski's weather experiments, more of us swam outside their reach. However, my cousin Finny got caught last year, and he had the secret option implant, so we heard later that his flesh showed up in southern China on the black market. Imagine that fate for a red salmon like him.
Rumor on the Nippon fish site a few of us Japanese speaking sockeye visit when at the internet pipe was that the foreign trawlers were scared that they might intercept our mini-me GPS pills and get caught, so they stole Patagonia toothfish instead. Well, all I have to do now is navigate the substistence crowd and I am home free, ready for a milt spewing mate to redd down with me in the headwaters of the Kvichak.
With Trident paying fifty cents, I could see the slack in the gillnets as we went by this year. Thank god for price fixing. Migrate like you have no tomorrow! Your friend, Peduncle."
See more at John Enge's Blog
See John Enge's Previous Posts On AlaskaReport Here
---
John lived in Alaska for 50 years and has run commercial boats and processing plants. John also served as a loan officer and economist for a "fishing bank" and served as the only Fisheries Infrastructure Development Specialist the state has had. He has owned a marine design and fabrication business and created the best-selling "Passport Alaska." All photos on his blog are his own, unless so noted.
Contact John Enge