Is the North Pacific Council following protocol?
August 23rd, 2006
Shawn Dochterman, a life-long Kodiak fisherman, wrote these letters to the National Oceanic and Atmospheric Administration, who oversees the Council process of fisheries management in the 200 mile Exclusive Economic Zone. There appears to be an attempt to just barrel ahead with giving the fish to big corporate interests, hence Shawn's frustration in not getting any answers on the legality of Council proceedings.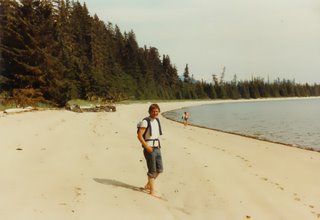 Another day off I took many years ago. The baby on my back is now a Sergeant in the Army. And yes, Southeast Alaska does have some cool beaches.
"Lauren, I was wondering if you're on vacation, as I didn't receive a response to my email (below) that I sent out to you a few weeks ago. I'd appreciate an answer to my questions as soon as you can get back to me. I hope you've had a nice summer in Juneau. Thanks, Shawn"
"Hello Lauren,
It was great to be able to sit down and have a conversation about the council process. We talked about what protocol the chair of the NPFMC must follow. Since there was a minority report that was not received by the council, due to the chair's request (crab ratz), is this normal protocal? I would appreciate a timely answer, as I am working on the crab crewmen's request for our fair and equitable shares for BS/AI crab quotas. Is it not the council's job to facilitate FMP changes on things that do not adhere to the National Standards?
If the council recommended a (crab)plan that does not adhere to NS, would it not make them liable, even if Senator Stevens attached it as a rider to an appropriations bill in the US Congress? Of course I am looking for liability since the crewmwen were not even accounted for in crab rationalization. One last question, since the federal record requested that the council investigate ratz for BS/AI crab and GOA ratz, and do an Environmental Impact Statement, and then return the information to the Congress, why is it that they have not given the Congress their reports and let them handle it instead of one US Senator and the NPFMC?
It is clear that the Council was never given the authority to create a plan for either ratz.(Gulf of Alaska or Bering Sea/Aleutian Islands) I look forward to working with you in the future, as the legality of crab ratz, the rockfish pilot program and GOA ratz will be held in question by many fishermen and their associations and Alaska state municipalities. Thank you very much,
Shawn"
There are a lot of things on my plate these days to write about, but I'm going picnicing and swimming at Umpqua Falls today and celebrate Sarah's win in the primaries. I have a lot of stuff like the above letter to get out and on the record in my Blog archives. We are working on a method to make White Papers from other researchers available too. That way the public can see other perspectives, other than the big money-funded economic reports that the Council and the State of Alaska have been using. It looks to me like the Council process has run out of the gas of legitimacy and some court should stop the NPFMC from meeting until some things are straightened out.
See more at John Enge's Blog
See John Enge's Previous Posts On AlaskaReport Here
---
John lived in Alaska for 50 years and has run commercial boats and processing plants. John also served as a loan officer and economist for a "fishing bank" and served as the only Fisheries Infrastructure Development Specialist the state has had. He has owned a marine design and fabrication business and created the best-selling "Passport Alaska." All photos on his blog are his own, unless so noted.
Contact John Enge