Kodiak fisheries advisors in hot water
August 29th, 2006
It looks like fisheries advisors in Kodiak may be leading the fleet up there into the jaws of the ratz trap. Not that the City fathers couldn't have known of Joe Sullivan and maybe some of their attorney's mixed loyalties.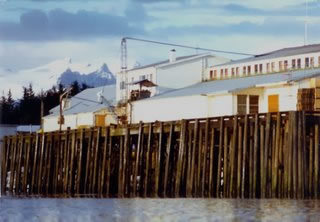 The culture of seafood processing in Alaska has remained under wraps due to the contrariness of it's business ethic. They push "fisheries advisors" on city and state government to keep their motives quiet.
I think the rational public would wonder why an honest, hardworking person can't be hired to get the City of Kodiak good information. From my vantage point I see a lot of good talent, it's just that they walk a narrow moral road.
Take a look at what the new champion of the rank and file fisherman had to say to the Kodiak City Council the other day.
Shawn Dochtermann - "I know that we at the Alaska Jig Association are not informed, because like you, we also find it extremely difficult to obtain congressional documents needed to make the right decisions,"

Dochtermann said the rockfish program is neither a pilot program nor a demonstration program.

"It is intended to give the members of those associations superior rights and to set a precedence for their use of gulf rockfish for low valued purposes."
Dochtermann was referring to the Data Bank and Alaska Draggers Association.
I know that the City government in Dutch Harbor has the same problem that Kodiak has. The big money interests just got people in posts of influence to grease the skids of privatization of the resources. Kind of like how the oil companies wanted to lock everyone else out in Governor Murkowski's much ballyhooed gas-line deal. Or State Farm Insurance altered damage reports to Katrina victims homes to get out of paying claims. The list goes on and on. Note to reader: if you see anything I talk about you think you can do anything about, feel free.
One document that I will endeavour to get to you in a link is a letter from a Kodiak fish processor that would get left out in the Gulf of Alaska Rockfish Pilot Program. Of course the big boys want to have the fish go to certain large processing plants. Anyone that is not a major player now could never become one. This is an excerpt:
...taking Sullivan to task for not informing the council. "Sullivan completely left out the most important item currently facing Kodiak," he said. He said the Data Bank and Alaska Draggers have been lobbying Congressmen Don Young and Richard Pombo of California to extend the rockfish program from its current short-term two years to five years. "This is no small oversight. It would guarantee the economic winners. This would harm our business and other employers in Kodiak," Nikitenko said.
What a stink! Mr. Nikitenko also took the City Council to task for considering matching money from the Alaska Seafood Marketing Board, more Ted Stevens pork which went into this non-profit to help favored projects. The fish company guy has a good point. Why should a City and a Borough put any money toward funding a private label. Although it's not clear to me who owns the label. I hear also that the Chamber of Commerce is the force behind it. The whole thing doesn't look like free enterprise, hence a strike against it from the start. Now if the fishermen in Kodiak had formed a State sanctioned Regional Seafood Development Association with a brand, that would be different. Associations are 99.9 fine as far as capitalism goes. But they don't leave much room for politics, and that's no fun for a lot of folks.
And a bunch of Petersburg quota holders want to cash out at the public's expense, and make quota holders sell in the area they caught the fish in. Where would a St. Matthew fisherman sell his halibut, Russia? Apparently 98% of Petersburg fishermen didn't even know about it. That little ploy didn't even stink to the Kodiak folks and they were ready to go right along with it apparently.
The jury is really out on the Kodiak City Council. Someone on the Council, or the Mayor, needs to step up to the mike and say what's right is right and what's wrong is wrong. Maybe I should start a pool at the office and take bets.
The point of all this is that it points to the fallacy of governments hiring "fisheries advisors." There are innumerable folks that have the same knowledge of the fisheries, if not more, than Joe Sullivan, or Alan Austerman, the "fish czar" for the Governor. Ever notice how fisheries policies get crosswise with the public's best interests when you have a "fisheries advisor?" "It's not what's needed" as my father said as he turned down the job of being the state's first "fish czar." The "fish czars" in Juneau came shortly before all the privatizing of the resources started in the early '70s.
Kodiak's GOA Task Force comes close to what's needed, but that kind of thing can get stacked against the honest joe fisherman too. And the only reason Kodiak had to form that Task Force was due to the lack of leadership in Juneau. Anyway, some folks in leadership positions are going to feel the hot breath of the public as more and more people turn to the Internet for the "straight scoop." Look at what happened in the primaries. Not only did Sarah Palin trounce all the other Repubican candidates, she got more votes than all the Democratic candidates put together. It pays to be honest, and the converse is true.
See PDF with all relative documents
See more at John Enge's Blog
See John Enge's Previous Posts On AlaskaReport Here
---
John lived in Alaska for 50 years and has run commercial boats and processing plants. John also served as a loan officer and economist for a "fishing bank" and served as the only Fisheries Infrastructure Development Specialist the state has had. He has owned a marine design and fabrication business and created the best-selling "Passport Alaska." All photos on his blog are his own, unless so noted.
Contact John Enge