John Enge
Setnetters Unite
October 31st, 2006
"Alaska's fisheries will always survive at a very inefficient level due the abundance of resources and sound management. The economics, however, are insane.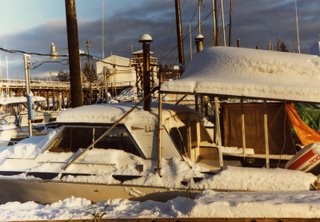 Cabin cruisers like this one made up a good chunk of the almost one thousand handtrollers who disappeared due to political tampering.
One only has to chronicle Bristol Bay for that reality. I started in 1970 and there were three times as many processors as there are today. The product is no better now, and might be worse, due to the insane capital stuffing on those 32 foot shoe boxes that need as many fish as they can get and will tow their nets and fish for hours.
In 1989 there were 388 purse seiners making a living in Kodiak. This summer the number was less than 100. No rationalization--and no hue and cry over the hundreds of crew that lost jobs--why is that not on your blog as a consequence of inaction???"
Now there's a statement and a half. I have mentioned the loss of boats from the salmon fisheries a number of times. The rest of the state has lost similar sized chunks of their fleet. I'll put it really simply at first then go into what little detail the space here allows and folks have the patience to read. First, the processors main focus is to compete with each other for product. That means they are dedicated to putting each other out of business. Consolidation is a polite name for it. Where is the social conscience in it when a weaker competitor is the only fish processing plant in a town and all the jobs are lost in a price war.
My great grandparents came to Petersburg about the time the plant there succumed to such a fate. The guy they named Petersburg after killed himself over the financial loss and dashed dreams. Fortunately there weren't any permanent residents at the time to have their dreams dashed too. So Rasmus and Anna Enge became the first permanent white settlers there. Like they say in real estate, location, location, location. The plant in Petersburg got going again and never slowed down because of it's location on a shipping lane, next to an active tidewater glacier, lots of all kinds of fish, and great timber for building. A lot of other areas in the state that had canneries didn't have such a strategic location. They were really vulnerable to all kinds of vagaries of the seafood business world.
I, too, made my debut in Bristol Bay in 1970. I worked as a tallyman on the Ugashik II, a power scow that we had resurrected with a lot of oakum and a couple of gas engines. Some new big fiberglass gillnetters joined the fleet that year, the first big year in awhile and the first year that sockeye were paid for by the pound instead of the fish. A whopping 25 cents a pound. But it was good money back then. Then limited entry hit the fleet.
That was the first of the privatization schemes, or as it is sugar coated now - "rationalization." I've mentioned that many economists have and are still decrying going in this direction. I would like to be able to explain it better myself, maybe by first reading the book "Salmon Wars" by Dennis Brown, a former top Canadian fisheries policy advisor. They got into limited entry before we did. In general it seems to suck money out of the industry as fishermen sell not only their boats, but the permit to fish too, which is often of equal value.
So, all of a sudden, it takes twice as much for a new kid to get into the business. Then when keeping the fish cold on board becomes an issue, a lot of the boats don't have the wherewithall to upgrade, which was a chief cause of the demise of all those boats you mentioned. Farmed salmon got blamed for a lot of bum advice from economists, and action by legislators who only had access to the big processors' point of view.
Well, let me try to get to a point. We're probably not going to be able to reverse privatization, but maybe stop it where it is. I don't think many people would think "The Lord giveth and the Lord taketh away" applies to their limited entry permit or quota share. But fishermen do have a chance to create a mechanism whereby they can maximize the benefit of the products to themselves. Then maybe they can get some of those 288 permits back in action in Kodiak and watch the town start to hop once again. And enough capital will stay in the regions, irregardless of the flight of capital that privatization causes, to have more infrastructure and more shore jobs. That mechanism is called the Regional Seafood Development Associations.
"John,
Thanks for the info. I will just keep posting articles and probably once it has a little content, I will put it in the magazine and connect it to my web site. Pretty impressive numbers on your Alaskan web site. That's a lot of cold fishermen that need a hot soak and a good vacation.
By the way, do you want to do something one a discount for fisherman visiting from Alaska ? During the off season, we could give them a 20% discount on weekends and 30% discount on weekdays. That would be Nov. 1 to May 31st, excluding Holidays, 3 day weekends, and Valentines day.
Is that something you could write about in you blog? All they would have to do is ask for the Alaska Fisherman's special. A good article on the Hot mineral water might sound pretty good to an old salt who is out in on the briny in below zero weather. How long could something like that stay up, or would it have to be repeated every so often. We could keep track of the results and get you some soaking time in our hot water. I have heard lots of stories similar to yours about improved skin condition.
Take care,"
Duane Smith
Lithia Springs Resort
Ashland Magazine
Ashland, Oregon
There, you have it, you fishermen just show your limited entry card to get a nice discount at the mineral springs in Ashland. Bring the wife, a bottle of Ice Wine, some local pears and settle in. It's really great. Treat your girl to a professional massage and you won't be thinking about losing those skates of gear for awhile.
---
See more at John Enge's Blog
See John Enge's Previous Posts On AlaskaReport Here
---
John lived in Alaska for 50 years and has run commercial boats and processing plants. John also served as a loan officer and economist for a "fishing bank" and served as the only Fisheries Infrastructure Development Specialist the state has had. He has owned a marine design and fabrication business and created the best-selling "Passport Alaska." All photos on his blog are his own, unless so noted.
Contact John Enge