Adak Fisheries & Icicle Seafoods Fine Decision Available
July 22, 2007
Updated August 30, 2007 (See below)
By Stephen Taufen - On March 12, 2007 a United States Coast Guard Administrative Law Judge, Walter J. Brudzinski, ruled in the matter seeking $3.44 million in civil penalties in U.S. Department of Commerce's NOAA Fisheries versus Adak Fisheries, LLC; Adak Fisheries Development, LLC; and Icicle Seafoods, Inc. The attached PDF is the "Initial Decision" on Docket Number AK035039 regarding 82 violations of the American Fisheries Act, from February 2002 to February 2004, in violation of processing approximately 3.83 million pounds of Western Aleutian brown king crab in excess of Icicle's crab processing cap.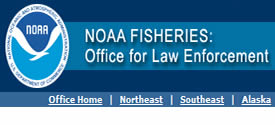 The summary of the case notes "the evidence is largely uncontested" and "the only dispute is whether AFDC was 'controlled' by Icicle through [ Adak ] Fisheries to the extent that AFDC became an affiliated entity subject to Icicle's crab processing cap. The answer is yes. The organizational structure of the companies, their contractual agreements, and their interactions with one another are convoluted; yet, they do little to insulate the Respondents from liability." And the decision noted, "the level of control is so much so that AFDC is viewed as an instrumentality of Icicle and [ Adak ] Fisheries used solely for the purpose of evading the crab processing cap." The decision also notes that Icicle management has been fully cooperative during the investigation.
What is newly revealed to Groundswell readers in the document is a dispute regarding the effect of settlement agreements, wherein "Icicle basically argues that it is unfair for [ Adak ] Fisheries and AFDC, which are now both solely owned by Mr. Solberg, to walk away without paying a dime of the penalty assessed in the case." It notes that "the judge does not have the authority to approve or deny the settlement." And "therefore, the settlement agreement between NOAA, Fisheries and AFDC is irrelevant to the ultimate issues in this case."
On the one hand, it is easy to understand Icicle's argument, since "[Adak] Fisheries and AFDC submitted verifiable financial information demonstrating that both companies now owned by Mr. Solberg lack an ability to pay the penalty, it is not dispositive on the issue concerning the size of the penalty." But on the other hand, sympathy is hardly in order, either.
Adak Fisheries had paid Ben Stevens about $280,000 in consulting fees from 2002 to 2004, and Ben had a ' secret deal' to buy 25% of the company during that time frame. That is a huge story in and of itself, especially concerning what if anything Icicle knew about Ben Stevens' secret deal, and when (it sold out its share to Solberg in a shotgun buyout around April 2004). Who knows what the ongoing Public Integrity probe conducted by the FBI and other federal agencies will do involving Adak Fisheries and Ted's rider, but it certainly qualifies for serious investigation.
Because readers will recall the involvement of U.S. Senator Ted Stevens in awarding by an Appropriations Rider in late 2003 a significant quota of pollock to the operation, via the Aleut Corporation and its subsidiary the Aleut Enterprise Corporation, which his son would have benefited from.
But an Alaska superior court judge later ruled against the exercise of Ben's option (of imposing it on new co-owner Aleutian Spray) and vacated Solberg's state filing that Ben Stevens was president of the company. That's one reason why Solberg is characterized as sole owner, because he later bought out Aleutian Spray Fisheries' interests (earlier, ASF had essentially bought Icicle Seafoods 50% stake in Adak Fisheries' plant).
The oddest exchange noted in the document regards an apparent blame-shifting attempt made to say that a well respected NOAA employee had in essence agreed to a plan shown to him at a North Pacific Fishery Management Council meeting in the hotel lobby by an Icicle attorney, as if it was o.k. and as if approvable by that manner. That turned out to be the crab cap busting plan, in writing. That's the plan we'd heard so astounded NOAA law enforcement officers when they first discovered it was actually written down. There has always been a feeling in the air that someone should have been given jail time for that stunt.
We are not sure what has happened in the last month to the case, as the parties had 30 days after service of the decision to seek administrative review. Likewise, the decision would become final if the Administrator of NOAA Fisheries, former vice admiral Conrad C. Lautenbacher, "does not elect to issue an order to review the initial decision without petition within 60 days of service." That time has passed. So, we'll be checking in with NOAA to see what has transpired. However, one NOAA attorney advised me in early June that they expected Icicle Seafoods to keep on appealing the matter, even going next to the U.S. District Court.
We say, "Pay up! And learn your lessons. Spend the rest of your money making sure Solberg has to pack his bags and go back to Norway." It's nothing personal against Kjetil, but if the United States of American doesn't teach foreigners (even if they become citizens) and their businesses that we aren't easy pickings grounds for global seafood schemes, then we can just expect more of the same - with more American firms getting left holding the crab bag.
But we'll leave federal authorities with one last hint. Did you check to see if Norway offered any ExportFinance subsidies to the original investors at Adak's seafood plant, and if any of those bank accounts still exist in Norway ? It is not that we have any knowledge of it, but having seen this before with the federal bankruptcies of factory trawlers, only to find out the subsidies were still cash in the foreign bank accounts (though American suppliers went unpaid), we wouldn't want NOAA to skip over any possibility.
And what about that off-books Karlo Inc. foreign bank account for sales of Adak Fisheries cod to Brazil ?
Ole!
Updated August 30, 2007 (See below)
The exposure of the KARLO bank account in Norway came from the Alaska Superior Court case files in the 2005-06 dispute concerning who are the actual owners of Adak Fisheries - and whether or not Ben Stevens was its president. An Alaskan superior court judge ruled he was not. We'll write later about Ben's secret ownership option there, and how he tried to exercise it in 2005.
A CPA's statement said that the KARLO account held the funds collected from accounts receivables resulting from the sale of Adak Fisheries' cod -- allegedly reprocessed in Norway -- to Brazil. The CPA obviously wanted to steer clear of personal liability, so he noted two key disclosures.
First, that KARLO's purpose was to specifically hold the revenues off the books of the Adak Fisheries operation in Alaska, which clearly was subject to taxation in the United States. Second, that KARLO had "no other significant assets and liabilities." Obviously, a reprocessing operation would have assets, unless it was purely a custom processing arrangement or invoicing firm designed to hold paper and profits only -- a hallmark of what might actually be a global profit laundering operation, and part of tax evasion strategies.
Being that key owner Kjetil Solberg was from Norway, it once again raises suspicions of Norwegian export finance subsidies having originally helped fund the operation. Something for federal authorities to also delve into.
When the 50% partner in Adak Fisheries, Aleutian Spray Fisheries, majority-vote board members met about two years ago, before bailing out of Adak Fisheries, they rightfully attempted to gain signatory powers over the Karlo account. One can speculate that it was primarily to claim those offshore revenues in order to offset operating expenses related to the Alaskan-origin cod products and to service Adak Fisheries' tremendous debt to ASF, its U.S. partner.
An open question remains: whether or not Ben Stevens was also aware of the foreign account and had any drawing powers, or was ever paid through that affiliated foreign haven fund. So, it is interesting to learn recently that a Portuguese company has a technician currently in Adak installing a new cod processing line -- said to cost $35 million. That sounds like far too much, so maybe someone has the figure wrong.
However, it would make sense that with two ongoing federal investigations underway at Adak, and the Karlo account now subject to federal law enforcement scrutiny and IRS review, to move any value-added processing back to Adak, as the law dictates proper profit recognition in the USA tax nexus. However, product quality dictates the decision as well - even if failing to explain why there was previously a need to allegedly shelter profits outside the USA.
And it would make sense to inflate the costs of the new equipment, and then to subject it to rapid depreciation allowances - greatly increasing the write off of equipment through depreciation expenses, in order to offset US side profits, and lower taxable incomes through that inflated acceleration. This is just another of the global tricks of Abusive Transfer Pricing -- namely, loading-in false costs.
We're just speculating here but experience has taught Groundswell that these matters require strong examination by the IRS and law enforcement officials. And the installation of this new cod processing system shows that Adak Fisheries (and AFDF?) has the ability to finance this expansion. The obvious conclusion is that they also should have the ability to help Icicle Seafoods pay that $3.44 million fine.
With the upcoming legislative trials starting next week, and it now being clear that Ben Stevens may fall under indictment for assisting VECO's Bill Allen with obtaining votes from at least one other state legislator, this is going to be a most interesting September.
By Stephen Taufen, Groundswell Fisheries Movement
Related Stories:
FBI in Alaska closing in on Ted Stevens' son Ben

Alaska Senate president Ben Stevens has accepted bribes from seafood processors, according to Ray Metcalfe

Ben Stevens Fined $150 & $150: APOC Blind to Corruption
---
A public watchdog and advocate for fishermen and their coastal communities. Taufen is an "insider" who blew the whistle on the international profit laundering between global affiliates of North Pacific seafood companies, who use illicit accounting to deny the USA the proper taxes on seafood trade. The same practices are used to lower ex-vessel prices to the fleets, and to bleed monies from our regional economy.
Contact Stephen Taufen