Alaska Senator Ted Stevens exposed as blocker of bill to create a searchable database of government contracts
8/30/06
Washington, D.C.
Alaska Senator Ted Stevens has been exposed, by the process of elimination, as the middle-of-the-night insider who blocked a bill to make public the spending patterns of the government.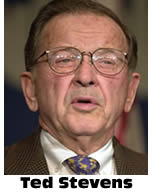 Twelve days ago, an unidentified senator placed a "secret hold" on legislation introduced by Sens. Tom Coburn, R-Okla., and Barack Obama, D-Ill., that would create a searchable database of government contracts, grants, insurance, loans and financial assistance, worth $2.5 trillion last year. The database would bring transparency to federal spending and be as simple to use as conducting a Google search.
The measure had been unanimously passed in a voice vote last month by the Senate Homeland Security and Governmental Affairs Committee. It was on the fast track for floor action before Congress recessed Aug. 4 when Stevens put a hold on the measure.
Stevens Outed
In response, liberals and conservatives worked together to ask every Senate office whether they had placed a hold on the bill. Of all 100 senators, only Sen. Ted Stevens (R-AK) would not deny placing the hold. In addition, one of the bill's leading sponsors, Sen. Tom Coburn (R-OK), said of Stevens, "he's the only senator blocking it." Stevens's opposition to such a bill is not surprising; he is one of the most prolific earmarkers in the Senate:
- In 2005, Stevens helped slip in legislation to begin construction on the "Bridge to Nowhere," earmarking over $200 million for a bridge to an island home to 50 people. When an amendment jeopardized funding for the project, Stevens threatened to resign.
- Later that year, Stevens tried to insert an amendment into the national defense bill allowing oil drilling in the Artic National Wildlife Refuge. When the Senate struck the provision, Stevens called it "the saddest day of my life" and has "written off" Senate friends who opposed drilling.
- This year, Stevens earmarked $450,000 to research baby food made from salmon and over $1 million for "alternative salmon product research." This is the third year in a row he has appropriated money to research salmon products.
Bill to expose corruption
Now the bill is in political limbo. Under Senate rules, unless the senator who placed the hold decides to lift it, the bill will not be brought up for a vote.
"It really is outrageous to do this in the dead of night as Congress is recessing," said Gary Bass, executive director of OMB Watch, a budget watchdog group based in Washington. "The public has a right to know how the government spends money."
The secret hold had prompted conservative and liberal government watchdog groups to band together to "smoke out" the senator responsible.
Porkbusters.org, for example, posted photographs of all senatorial suspects underneath a bold-faced headline asking, "Who is the Secret Holder?"
"It really is a mystery, not only who did it, but what the rationale could possibly be and why they would go to the mat on this," said Ellen Miller, executive director of the Sunlight Foundation, a new Washington-based nonprofit devoted to helping the public understand Congress through the Internet. "There is no conceivable, rational explanation for killing this legislation unless they have something to hide."
Related Stories
Ted Stevens & Corruption: Move Over Duke Cunningham

Money, Influence, and Ethics
Ted Stevens' ethics questioned by US News & World Report

Does Rupert Murdoch's DIRECTV own Senator Ted Stevens?

Alaska Senate president Ben Stevens (Ted's Son) has accepted bribes from seafood processors, according to Ray Metcalfe, Chairman of the Republican Moderate Party

Some information gathered from tpmmuckraker.com, chron.com, truthlaidbear.com, and ThinkProgress.com.