AlaskaReport.com has uncovered exclusive information about the FBI/IRS raids in Alaska
9/01/06
Juneau, Alaska
By Dennis Zaki
AlaskaReport.com has uncovered more information about the FBI raids August 31st.
1) Sources in Anchorage report that there were many Forensic Accountants on the team raiding Anchorage offices yesterday. Readers may be interested to note that Stephen Taufen of Groundswell worked for a seafood supplier on their case against two factory trawlers involving federal bankruptcies, and advised the FBI and Norwegian government in January of 1997 about the impending bankruptcies of others should shoreside pollock allocations increase.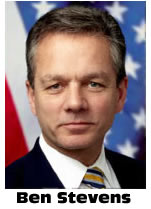 2) Another background source confirms that National Marine Fisheries special agents are on the search teams, and that it is obvious with IRS involvement regarding Ben Stevens' "consulting income" (and what it was for) will surely spill over into the payments he received from Yard Arm Knot, Highland Light, the At-Sea Processors Association, North Pacific Crab Assn. (all major crab processors), Glacier Fish Company and others who were paying Ben along with Adak Fisheries, for consulting.
3) A deep-throat source alleged that for months a staffer in one of the offices raided has been providing information to federal authorities. This may explain why documents were taken off the back of a picture on the wall.
4) The searches are said to be continuing Friday 9/1 and the searches may branch beyond Alaska, most likely to Seattle, for financial documents confirming payments to Ben Stevens for fisheries matters.
5) Bill Allen, owner of VECO, and his firm, were involved in a renovation of Ted Stevens' chalet in Girdwood in the recent past.
6) Expect the IRS to do complete audits of all sources of funds to the legislators involved, and this week's action to be the entryway for the Criminal Investigation Division of the IRS to investigate monies held in offshore locations. One example is Adak Seafoods' Nowegian subsidiary KARLO, which may be a profit laundering operation for cod sales through to Brazil. In earlier court action involving Adak, mention was made of another operation in Portugal.
Related Story:
4 more warrants issued as criminal probe intensifies after FBI raids on Alaska legislators; no arrests yet

Alaska Senate president Ben Stevens has accepted bribes from seafood processors, according to Ray Metcalfe, Chairman of the Republican Moderate Party. 6/26/06

Ben Stevens Fined $150 & $150: APOC Blind to Corruption

Ted Stevens & Corruption: Move Over Duke Cunningham

Ted Stevens exposed as blocker of bill to create a searchable database of government contracts