November 13, 2008
Alaska Republicans re-elect Don Young to Congress
Corrupt Congressman awaiting indictments
Alaska Congressman Don Young, under multiple criminal investigations for bribery and extortion, has been re-elected by Republican voters.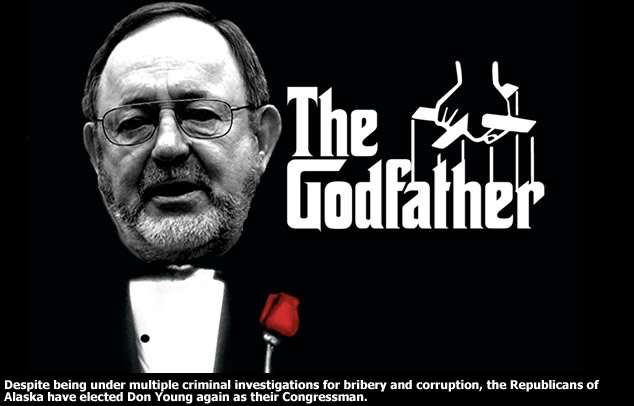 The AP declared Young the winner today over Democratic opponent, Ethan Berkowitz. With all but about 30,000 absentee votes counted, Young leads Berkowitz 51 to 45 percent.
A Florida land scam, a Wisconsin trucking scam, and a VECO polling scam didn't deter the Alaskan Republican vote.
Adding to the pile, Don Young's Former Aide Mark Zachares has pleaded guilty to corruption and is expected to testify against him. And Young's campaign manager, Steven Dougherty, is also under criminal investigation.
Yet the Republicans still voted him into office for his 18th term.
Related Don Young Stories:
Corrupt Bastard Club coverage and links
Don Young's briber Troha escapes prison time
Don Young opens criminal defense fund
Florida returns Young's $10 million phony Coconut Road earmark
Don Young under criminal investigation - again
Don Young's Former Aide Pleads Guilty To Corruption
Don Young's infamous Florida land scam
Alaska Congressman Young probed by FBI in pay-off scheme
Don Young helps Florida developer after fund raiser
Don Young caught lying about debate over emissions bill
Ted Stevens and Don Young Fail to Provide 'Honest Services'
© AlaskaReport.com All Rights Reserved.
---