Department of Justice statement on Pete Kott
December 8, 2007
Alaska's former speaker of the House, Pete Kott, was sentenced Friday to six years in federal prison for his convictions on bribery, conspiracy, and extortion charges in September.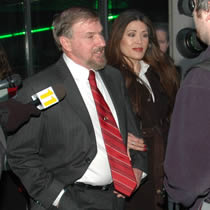 Kott was also ordered to pay a $10,000 fine, ordered to receive alcoholism treatment, and was given three years' probation.
From a Department of Justice press release: Peter Kott, a former elected member of the Alaska House of Representatives and former Alaska Speaker of the House, has been sentenced to 72 months in prison in Anchorage, Alaska, Assistant Attorney General Alice S. Fisher of the Criminal Division announced today.
Chief U.S. District Judge John W. Sedwick for the District of Alaska also ordered Kott to pay a $10,000 fine and serve three years of supervised release.
In calculating Kott's sentence, Judge Sedwick found that portions of Kott's testimony at trial constituted perjury and enhanced Kott's sentence accordingly. Judge Sedwick also found that the advisory Sentencing Guidelines were insufficient to provide a fair and just sentence given Kott's conduct, and departed upward to a sentence of 72 months.
On Sept. 25, 2007, a federal jury in Anchorage convicted Kott of bribery, extortion, and conspiracy for corruptly soliciting and receiving financial benefits from VECO Corporation in exchange for performing official acts in the Alaska State Legislature on the company's behalf.
Evidence at trial showed that Kott, while serving as a member in the state legislature, solicited bribes from and took action to benefit the financial interests of VECO Corporation, a major Alaska oil services company. Trial evidence, including more than 60 recordings of conversations involving Kott and former VECO executives, showed that Kott repeatedly promised to cast votes in VECO's favor on a key petroleum production tax proposal pending before the Alaska legislature. In exchange, Kott received cash, checks and the promise of a future job with VECO. The VECO executives who testified at trial, former Chief Executive Officer Bill J. Allen and former Vice President of Community Affairs and Government Relations Richard L. Smith, pleaded guilty in May 2007 to providing more than $400,000 in corrupt payments to public officials from the state of Alaska.
This case was prosecuted by trial attorneys Nicholas A. Marsh and Edward P. Sullivan of the Criminal Division's Public Integrity Section, headed by Chief William M. Welch, II, and Assistant U.S. Attorneys Joseph W. Bottini and James A. Goeke from the District of Alaska. The case is being investigated by the FBI and the Internal Revenue Service Criminal Investigative Division.
AUDIO: Prosecutor Nicholas Marsh from the Justice Department's Public Integrity Section
"What we saw here and what the jury convicted Mr. Kott of - was an unusual and extraordinary, outrageous, egregious pattern of self-serving conduct."

AUDIO: U.S. District Judge John Sedwick explaining his thoughts on Kott's perjury
"Having listened to that testimony, I am utterly convinced that at the trial, with respect to this payment, Mr. Kott gave false testimony under oath."

AUDIO: Pete Kott speaking to the court before sentencing
"...all my actions that I took while a member of the Legislature on the House floor, I took and truly felt that I did so in the best interests for the citizens of Alaska and the state of Alaska"

AlaskaReport's ongoing Alaska corruption coverage:
Corrupt Bastard Club coverage and links
A Culture Club of Corrupt Bastards
Convicted Kott maintains innocence
Prosecutors want harsh sentence for crooked Kott
Kott Jr. unbelieveable on witness stand
Ted Stevens implicated in bribery during Kott trial
Pete Kott guilty of bribery, conspiracy, and extortion
Ted Stevens under criminal investigation for corruption
Ted Stevens & Corruption: Move Over Duke Cunningham
Legislators still stumping for VECO - By Ray Metcalfe
© AlaskaReport. All Rights Reserved.
---