August 7, 2009
Palin accused of attempted bribery
Motion to amend says new evidence shows bribery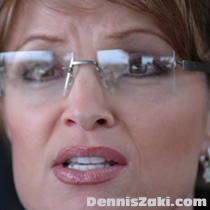 Former Alaska governor Sarah Palin, who left office in disgrace July 26th under a cloud of ethics charges, is now being accused of a federal claim of attemped bribery. See federal claim (PDF 52 kb)
To clarify a previous complaint, the motion also accuses Palin of a violation of Alaska's constitution.
From the motion to amend:
"2.Plaintiffs wish to add a very serious federal claim of attempted bribery and other violations of similar federal and state statutes under supplemental jurisdiction....

....offering state funds and support of legislation to third parties in exchange for them convincing Plaintiffs to drop this lawsuit in federal or state court."
Palin has had 21 ethics complaints filed against her, two of which she has been found guilty, three are still pending. One of those involves the Alaska Fund Trust set up by Palin and her friends to fend off ethics compalints. Palin has claimed she has over $600,000 in legal bills from these complaints, documents so far have shown only $120,000 in bills.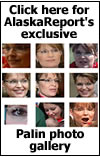 Related Palin stories:
Solid ethics complaint filed against Palin regarding unreported gifts
Todd and Sarah Palin to divorce
Palin lawyer threatens to serve papers at kindergarten, then balks
Sarah Palin's silence on affair deafening
Sarah Palin on "hurt feelings" - November 5th, 2008
Former Alaska governor Sarah Palin says politicians need to have thick skin "just as I've got" Which of course is hilarious since she quit as Alaska's governor complaining about her hurt feelings from Alaska's bloggers reporting on her 21 ethics violations.
Sarah Palin on "hurt feelings" from Dennis Zaki on Vimeo.
© AlaskaReport.com All Rights Reserved.
---