April 10, 2008
Begich, Stevens in dead heat
Barring likely indictments that would take him out of the race completely, Ted Stevens is going to have a tough time this November in his Senate re-election bid against Mark Begich.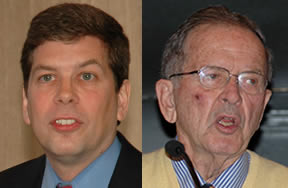 Stevens and his son Ben are under multiple criminal investigations for extortion, tax evasion, and bribery charges relating to Alaska's legislature and fisheries issues.
Mark Begich is the mayor of Anchorage.
The latest Rasmussen poll shows Stevens currently attracts 46% of the vote while Begich earns 45%.
From Rasmussen Reports:
Normally, a long-serving incumbent can count on unified support from his own party while picking up some support from the opposing party. However, Stevens is supported by just 71% of GOP voters while Begich attracts 78% of Democrats. Begich leads by 22 percentage points among unaffiliated voters.

Stevens is viewed favorably by 50% of the state's voters while 47% have an unfavorable opinion. Begich earns favorable reviews from 56% while just 35% have an unfavorable opinion.

Among unaffiliated voters, Begich is viewed favorably by 66%, Stevens by 42%.
© AlaskaReport.com All Rights Reserved.
---
AlaskaReport's ongoing Alaska corruption coverage:
AlaskaReport.com's Corrupt Bastard Club Stories
Alaska fisheries crimes by Stevens under investigation
Alaska Oil Executive Bribed Senator Ted Stevens
Ted Stevens under criminal investigation for corruption
Ted Stevens & Corruption: Move Over Duke Cunningham
Ted Stevens and Don Young Fail to Provide 'Honest Services'
---
---