Alaska Oil Executive Bribed Senator Ted Stevens
Stevens had VECO staff working on his home renovation - for free
Anchorage, Alaska - VECO founder Bill Allen testified Friday during the Pete Kott corruption trial that VECO employees worked on a remodeling of US senator Ted Stevens' Girdwood resort house in 2000.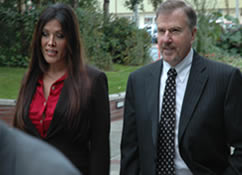 Just a few months before Allen oversaw the work on the Stevens' house, VECO was awarded a contract worth as much as $70 million by the National Science Foundation.
Responding to cross examination by Kott's attorney, Jim Wendt, Allen said that one to four VECO employees worked for many months on the Stevens remodel.
Allen, the former head of VECO, an oil field service company, also admitted that VECO had paid some of the contractors and that he had given Stevens some "old" furniture.
Allen acknowledged he gave more than $400,000 to several Alaska state legislators in bribes - and for work at Stevens' house.
Allen also testified that VECO paid the bills for two contractors, a plumber and a carpenter, for work on Stevens' house.
Bill Allen also said that Stevens' son, former Senate President Ben Stevens, did "not a lot" for more than $200,000 in consulting fees that he paid him.
Allen, admitted in court Thursday to bribing three former Alaska lawmakers, including former Senate President Ben Stevens, Ted Stevens' son.
Ben Stevens is under multiple criminal investigations for corruption and bribery.
AlaskaReport's ongoing Alaska corruption coverage:
Ted Stevens' son Ben took bribes from VECO
Alaska Senate president Ben Stevens has accepted bribes from seafood processors, according to Ray Metcalfe
Judge rules "Corrupt Bastards" be tried separately
Ted Stevens under criminal investigation for corruption
Ted Stevens & Corruption: Move Over Duke Cunningham
Ted Stevens and Don Young Fail to Provide 'Honest Services'
FBI in Alaska closing in on Ted Stevens' son Ben
Legislators still stumping for VECO - By Ray Metcalfe
© AlaskaReport News
---