Republican Stevens' home raided by FBI investigating bribery
July 30, 2007
By Dennis Zaki - The home of Alaska Republican senator Ted Stevens, under criminal investigation for bribery, was raided Monday afternoon by FBI and IRS agents looking into a corruption scandal that has already snared multiple lawmakers and members of an oil services company.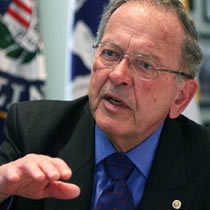 Stevens and his son, former state Senate President Ben Stevens, have been subjects of a Department of Justice investigation involving renovations made to the senator's home by contractor Bill Allen, who has pled guilty to bribing state lawmakers. Ben Stevens is also under investigation by a grand jury investigating Alaska fisheries.
AlaskaReport.com has confirmed the raid is focused on records related to the ongoing VECO bribery investigation.
In a written statement, the seven-term senator said he knows Alaskans are interested in hearing from him, but "the interests of justice and our state are best served" if he withholds comment until after federal officials finish their investigation."
"My attorneys were advised this morning that federal agents wished to search my home in Girdwood in connection with an ongoing investigation."
"I continue to believe this investigation should proceed to its conclusion without any appearance that I have attempted to influence its outcome. I will continue my policy of not commenting on this investigation until it has concluded."
"I know Alaskans are interested in my views on the investigation. While I understand this interest and would like to discuss these issues in great detail, the interests of justice and our state are best served if I make my comments after federal officials complete their work."
"I urge Alaskans not to form conclusions based upon incomplete and sometimes incorrect reports in the media. The legal process should be allowed to proceed so that all the facts can be established and the truth determined."
"For over 50 years I have worked hard for Alaskans as part of our territorial, state and federal governments. And I will continue to do all I can to assure that government meets our people's unique needs."
Ted Stevens, along with Alaska Congressman Don Young (also under criminal investigation), have sent Veco Corp. over $30 million in federal contracts since 2000.
Related Stories:
Ted Stevens under criminal investigation for corruption

Ted Stevens & Corruption: Move Over Duke Cunningham

Ted Stevens and Don Young Fail to Provide 'Honest Services'

FBI in Alaska closing in on Ted Stevens' son Ben

Alaska Senate president Ben Stevens has accepted bribes from seafood processors, according to Ray Metcalfe
© AlaskaReport News
Keith Olbermann: FBI and IRS raid home of Ted Stevens
---