Lesil McGuire made "veiled threats" against witness: FBI
FBI nor Justice Department will comment whether Senator McGuire is still in legal jeopardy
By Dennis Zaki - November 27, 2007 - In a surprising twist to the "Corrupt Bastard Club" corruption trials, federal prosecutor Joe Bottini said that Alaska Republican Senator Lesil McGuire threatened the wife of a government witness.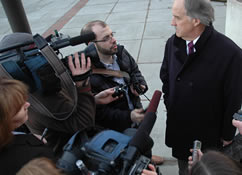 "It was, I believe, a veiled threat to Mr. Bobrick and Mr. Bobrick's wife concerning her ability to practice medicine in this state after she graduated from medical school." Federal prosecutor Joe Bottini told U.S. District Judge John Sedwick during the sentencing of government witness Bill Bobrick.
McGuire is the wife of convicted lawmaker Tom Anderson who last month received a five year sentence for corruption, bribery, and extortion.
In January of 2007, Lesil McGuire called both Bobrick and his wife, Jessica Bury, who was in medical school in Minnesota, Bobrick's attorney Douglas Pope said in court. McGuire claimed that she was hearing Bury might have a hard time being licensed to practice medicine in Alaska if her husband testified against McGuire's husband.
"Bobrick understood the call to be a threat that if he testified favorably for the government, Lesil McGuire would take steps to see that Jessica did not obtain her medical license," Pope told Judge Sedwick
Read brief filed about McGuire's witness tampering (PDF)
A brief filed by Bobrick's attorney Pope says:
Bobrick understood the call to be a threat that, if he testified favorably for the government, Lesil McGuire would take steps to see that Jessica could not obtain her medical license.

Bobrick refused to give McGuire Jessica's phone number in Minnesota, but somehow McGuire obtained the number and left similar messages for Jessica on her voice-mail.

Jessica Bury similarly understood the messages to be implicit threats that she would not be able to obtain her medical license in Alaska if Bobrick testified for the government against Anderson.

When counsel for Bobrick learned of this he called AUSA Joe Bottini and advised him of the contacts, and that Bobrick and Jessica understood Lesil McGuire's calls to be thinly veiled threats of retaliation in an attempt to influence Bobrick's testimony or to dissuade him from testifying at all.

Bobrick and Jessica and counsel took the threats seriously because Lesil McGuire is not only an influential state senator, she is also the daughter of Dr. David McGuire, an influential physician and businessmen in Anchorage. It is well-known in this community that David McGuire is politically well-connected, including with the State Medical Board.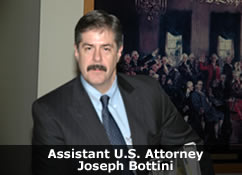 Prosecutor Bottini said that after McGuire was confronted about the threatening calls, McGuire stopped calling the Bobricks.
The FBI nor Justice Department would comment whether Senator McGuire is still in legal jeopardy.
Federal witness tampering carries a ten year sentence.
McGuire ignored AlaskaReport.com's repeated attempts for comment.
AUDIO:
Discussion in court about McGuire's threat to intimidate witness -
"I felt she was tampering with a witness, your honor, I thought she should've been indicted."

AUDIO:
U.S. District Judge John Sedwick imposes sentence against Bobrick

YouTube video posted by AlaskaReport.com
"You help me, I'll help you"
Convicted Republican Tom Anderson, meeting with FBI informant in his Anchorage legislative office, agreeing to testify at a public hearing on behalf of the informant.
AlaskaReport's ongoing Alaska corruption coverage:
Corrupt Bastard Club coverage and links
A Culture Club of Corrupt Bastards
Pete Kott guilty of bribery, conspiracy, and extortion
Kott Jr. unbelieveable on witness stand
Ted Stevens implicated in bribery during Kott trial
Ben Stevens has accepted bribes by Ray Metcalfe
Judge rules "Corrupt Bastards" be tried separately
Ted Stevens under criminal investigation for corruption
Ted Stevens & Corruption: Move Over Duke Cunningham
Legislators still stumping for VECO - By Ray Metcalfe
© AlaskaReport. All Rights Reserved.
---