McGuire denies threats, denies tape exists (it does), disputes prosecutors
McGuire caught in a web of lies
By Dennis Zaki - Alaska Republican senator Lesil McGuire denies threatening the wife of a government witness on a voicemail and said no tape exists of the conversation. A tape has surfaced and her own words show that McGuire has been lying to the media about the entire incident.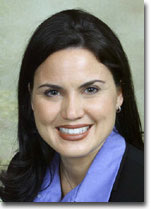 In the sentencing phase of convicted lobbyist Bill Bobrick's trial on Tuesday, federal prosecutor Joe Bottini told U.S. District Judge John Sedwick that McGuire threatened the wife of Bobrick, Jessica Bury, telling her that she might have a hard time being licensed to practice medicine in Alaska if her husband testified against McGuire's husband in his corruption trial.
"I would like to relay the information to her and the person that said it. Just so that she's aware that there's this contingency of people that I would just simply say are hoping for her to not succeed. And I don't know all the details on her side, but it's not good." said McGuire on Bury's voicemail.
"What this person said was not kind, it was awful, and they made an implication that could affect her potential medical career and I was very upset by it and I defended her," said a message left on Bobrick's cell phone by McGuire.
McGuire was interviewed Tuesday by the Anchorage Daily News. In that interview, McGuire claimed she never mentioned anything medically related in the January calls. She also claimed she wasn't aware at the time that Bobrick was working for the FBI. "I didn't even know that Bill was working for the government then," McGuire said.
AUDIO:
Hear the "veiled threat" made by Lesil McGuire left on the cell phone voice mail of lobbyist Bill Bobrick on January 1, 2007.
"It was, I believe, a veiled threat to Mr. Bobrick and Mr. Bobrick's wife concerning her ability to practice medicine in this state after she graduated from medical school." prosecutor Bottini told Judge Sedwick during the sentencing of Bobrick.
"Bobrick understood the call to be a threat that if he testified favorably for the government, Lesil McGuire would take steps to see that Jessica did not obtain her medical license," Pope told Judge Sedwick
McGuire is the wife of convicted lawmaker Tom Anderson who last month received a five year sentence for seven felonies of corruption, bribery, and extortion. Anderson, who was sentenced to five years in prison, reports to an Oregon prison on Monday.
Read brief filed about McGuire's witness tampering (PDF)
McGuire denied she threatened Bury to KTUU:
"Number one, I don't even have that ability or power. But number two, I would never do that," said McGuire, countering the allegations.

"This is an obvious attempt by Bill Bobrick - on the day he should be atoning and reckoning to the public for what he has done and has admitted he has done - to shift the publicity away to someone else."
McGuire also denied she threatened Bury to the Associated Press:
"There was no threat; it did not happen," she said. "I would never do that. I never did that. Isn't this a brilliant move to shift the focus completely to someone else?

"Think about it. If you don't think that the government coming after my husband the way they did ... wouldn't they have come after me by now?"
Prosecutor Bottini said that after McGuire was confronted about the threatening calls, McGuire stopped calling the Bobricks.
The FBI nor Justice Department would comment whether Senator McGuire is still in legal jeopardy.
Federal witness tampering carries a ten year sentence.
McGuire ignored AlaskaReport.com's repeated attempts for comment.
AUDIO:
Discussion in court about McGuire's threat to intimidate witness -
"I felt she was tampering with a witness, your honor, I thought she should've been indicted."

---
AlaskaReport's ongoing Alaska corruption coverage:
Corrupt Bastard Club coverage and links
A Culture Club of Corrupt Bastards
Lesil McGuire made "veiled threats" against witness: FBI
Pete Kott guilty of bribery, conspiracy, and extortion
Kott Jr. unbelieveable on witness stand
Ted Stevens implicated in bribery during Kott trial
Ben Stevens has accepted bribes by Ray Metcalfe
Ted Stevens under criminal investigation for corruption
Ted Stevens & Corruption: Move Over Duke Cunningham
Legislators still stumping for VECO - By Ray Metcalfe
© AlaskaReport. All Rights Reserved.
---