Convicted Kott maintains innocence
December 4, 2007
Former Alaska House Speaker Pete Kott is asking a judge for a prison sentence of no more than 33 months.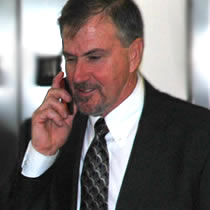 Jim Wendt, Kott's attorney, had also asked U.S. District Judge John Sedwick November 9th to reconsider Kott's September 25th conviction on bribery, conspiracy, and extortion charges - but was denied.
Federal prosecutors are asking judge Sedwick to impose a sentence against the convicted former Republican of at least 10 years and up to 12 and a half years in prison, according to a sentencing memorandum filed Friday.
Wendt said Monday that Kott should not get the 12-year sentence recommended by federal prosecutors because he did not actually receive anything of monetary value from former oil company bagman Bill Allen. Allen has already pled guilty to bribing Kott.
Kott's sentencing is at the U.S. Courthouse in Anchorage Friday December 7th.
AUDIO: Oil company bagman Bill Allen and Pete Kott phone call - August 30, 2006
Allen calls Kott the day Allen is confronted by the FBI - Allen called numerous state and federal lawmakers to try to get them to confess to previous crimes. "Remember, what we talked about three, four, five weeks ago, we'd just add on X-amount, I forget what it was exactly, to your bill or something."
The next day, the FBI raids began.
YouTube video posted by AlaskaReport.com
Convicted oil company bagman Bill Allen is counting something that's not visible on the video. He testifies later in court that he handed Kott $1,000 cash. (FBI video taken on June 1st, 2006)
AlaskaReport's ongoing Alaska corruption coverage:
Corrupt Bastard Club coverage and links
A Culture Club of Corrupt Bastards
Pete Kott guilty of bribery, conspiracy, and extortion
Kott son unbelieveable on witness stand
Ted Stevens implicated in bribery during Kott trial
Ben Stevens has accepted bribes by Ray Metcalfe
Judge rules "Corrupt Bastards" be tried separately
Ted Stevens under criminal investigation for corruption
Ted Stevens & Corruption: Move Over Duke Cunningham
Legislators still stumping for VECO - By Ray Metcalfe
© AlaskaReport. All Rights Reserved.
---