John Cowdery, under suspicion for bribery, asked to resign
Lyda Green runs interference as expected
Under criminal investigation for bribery, Alaska state Senator John Cowdery has been asked to resign by Republican party leaders from Cowdery's Anchorage district.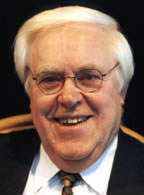 Cowdery said last week he would not attend this year's session but would participate by telephone instead due to his failing health.
District 30 chairman Kenneth Kirk said at least a dozen committee leaders were involved in the drafting and approval of the resolution, according the Associated Press.
"If we were going to do something based on the corruption allegations, I think we would owe it to him to give him the opportunity to be heard on that issue," said Kirk to the AP.
Senate president Lyda Green, as expected, refused to ask Cowdery to step down "He's been a faithful member of the Legislature. It's always hard when there are investigations. It's a bad signal to send if because someone has a legitimate absence, they are called upon to resign."
Cowdery is one of six lawmakers who had their offices raided by the FBI in August 2006.
During the trial of former House Speaker Pete Kott in September, Cowdery was fingered as taking bribes from an oil services company.
The Resolution
By the combined Republican District Committees for Districts 29 and 30 (comprising Senate District O)
WHEREAS House Districts 29 and 30 combine to form Senate District O, presently represented in the Alaska Legislature by Sen. John Cowdery; and
WHEREAS Sen. Cowdery has recently stated that, for reasons of ill health, he will not be able to travel to Juneau to attend this year's legislative session, but that rather than resign his Senate seat, he will participate in the session by telephone; and
WHEREAS Sen. Cowdery may be able to participate in committee meetings by phone, but he will not be able to vote on the floor of the Senate, so that his telephonic participation would effectively disenfranchise the voters of this district on most issues of importance to the district and the state; and
WHEREAS Sen. Cowdery did not participate in the most recent special session, thus depriving the district of a voice in the Senate on an issue of critical importance to Alaskans; and
WHEREAS Senate District O is a growing district, which is greatly in need of effective representation in the State Senate; and
WHEREAS until recently Sen. Cowdery was a candidate for reelection, and thus Republican Party rules effectively prohibited the district committees from taking this action, as it would have had the effect of publicly favoring one Republican primary candidate over another; but
WHEREAS Sen. Cowdery has now withdrawn his candidacy, thus allowing the district committees to take a formal position regarding his plan to continue in office without voting on the floor of the Senate; therefore
BE IT RESOLVED that the District Committees of House Districts 29 and 30, acting jointly, call upon State Senator John Cowdery to resign his seat, effective immediately.
AlaskaReport's ongoing legislator corruption coverage:
Corrupt Bastard Club coverage and links
A Culture Club of Corrupt Bastards
Lesil McGuire made "veiled threats" against witness: FBI
Pete Kott guilty of bribery, conspiracy, and extortion
Ted Stevens implicated in bribery during Kott trial
Ben Stevens has accepted bribes by Ray Metcalfe
Ted Stevens under criminal investigation for corruption
Ted Stevens & Corruption: Move Over Duke Cunningham
Legislators still stumping for VECO - By Ray Metcalfe
© AlaskaReport. All Rights Reserved.
---