Cowdery resigns chairmanship under cloud of suspicion
January 16, 2008
Republican senator John Cowdery announced he is resigning as Senate Rules Committee chairman.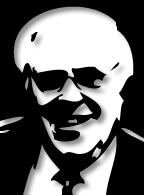 He has also been asked to resign his Senate seat by Republican party leaders from Cowdery's Anchorage district.
Cowdery has been under a cloud of suspicion since former VECO vice president Rick Smith testified under oath that he bribed him.
Cowdery, 77, is not attending the legislative session due to health reasons and is hospitalized in Anchorage.
In a written statement Cowdery said "Due to my recurrent health issues I have decided it's best for me and the Alaska Senate to resign as chairman of the Senate Rules Committee."
"When my health allows it I will return to Juneau as quickly as possible so I can work on the issues that are important to the people of Senate District O."
AlaskaReport's ongoing legislator corruption coverage:
Corrupt Bastard Club coverage and links
A Culture Club of Corrupt Bastards
Lesil McGuire made "veiled threats" against witness: FBI
Pete Kott guilty of bribery, conspiracy, and extortion
Ted Stevens implicated in bribery during Kott trial
Ben Stevens has accepted bribes by Ray Metcalfe
Ted Stevens under criminal investigation for corruption
Ted Stevens & Corruption: Move Over Duke Cunningham
Legislators still stumping for VECO - By Ray Metcalfe
© AlaskaReport. All Rights Reserved.
---