Judge rules "Corrupt Bastards" be tried separately
September 5, 2007
Anchorage, Alaska - A judge has granted the government's request to separate the federal corruption trials for two former Alaska lawmakers, members of the self proclaimed "Corrupt Bastards Club".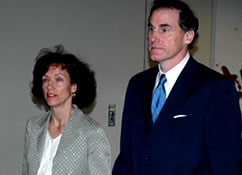 Former Alaska state Rep. Bruce Weyhrauch's trial will await the outcome of the federal government's appeal to the 9th U.S. Circuit Court of Appeals in San Francisco. The judge ruled that the trial for former Alaska House Speaker Pete Kott will continue with jury selection starting Wednesday.
U.S. District Court Judge John Sedwick ruled that the trial for Weyhrauch will be delayed while federal prosecutors appeal a decision by Sedwick to toss out some evidence in the trial.
Doug Pope, Weyhrauch's attorney, spoke to the press after the ruling.
"We are deeply, deeply concerned about the conduct of the government in this case, it's outrageous". That when we pointed out to the trial judge that they has no evidence of an agreement between our client and Bill Allen and he would perform work for VECO in change for giving his vote, they changed their theory of the case, the judge threw that theory out and for the reasons he stated in his order yesterday and now they want to appeal that decision to the 9th Circuit even though in our view it has no merit whatsoever and the whole reason they are dong that is basically to hold Bruce and LuAnn Weyhrauch hostage for the next two years. We think it is outrageous, and gross misconduct by the government and we feel that it's really going to increase the burden on Bruce and LuAnn incredibly."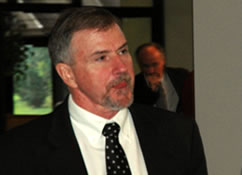 Prosecutors are appealing Sedwick's decision to suppress evidence that Weyhrauch and Kott were duty-bound to report they were seeking employment with Veco Corp., an oil field services company, when they were voting on oil-tax legislation.
The indictment says Pete Kott and Bruce Weyhrauch were in a bribery scheme with former VECO Corp. executives Bill Allen and Rick Smith.
© By Dennis Zaki - AlaskaReport.com
---
Related Corruption Stories:
Corrupt Bastard Club coverage and links

FBI raids offices of Alaska Senate president Ben Stevens and Rules Committee Chairman John Cowdery

Four more warrants issued as criminal probe intensifies after FBI raids on Alaska legislators

Alaska Senate president Ben Stevens has accepted bribes from seafood processors, according to Ray Metcalfe

Ted Stevens & Corruption: Move Over Duke Cunningham

Ted Stevens and Don Young Fail to Provide 'Honest Services'
---