Ben Stevens bribed by Rick Smith for $243,250
October 27, 2007
Anchorage, Alaska - Rick Smith testified Thursday in the Victor Kohring corruption trial that former Alaska Senate President Ben Stevens was paid $243,250 in bribes by VECO executives through a phony consulting contract and that he worked "illegally" on legislative business on behalf of the company.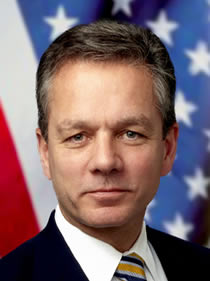 Smith, a former VECO vice president testifying on behalf of the federal government, said the bribes were for giving advice, lobbying colleagues and official acts before the Legislature.
"That's all illegal, isn't it?" Kohring's attorney John Henry Browne asked.
"I think that's the gist of it," Rick Smith said.
Ben Stevens is the son of disgraced U.S. Senator Ted Stevens, who is also under criminal investigation for a long list of crimes.
As of October 17, 2007 the massive Alaska Republican corruption investigation has snagged two of the state's three members of Congress, one of their aides the ex-president of the state Senate, four state legislators, two VECO executives, and two lobbyists.
Further indictments are expected.
---
AlaskaReport's ongoing Alaska corruption coverage:
AlaskaReport.com's Corrupt Bastard Club Stories
Ben Stevens Fined $150 & $150: APOC Blind to Corruption
Ben Stevens has accepted bribes - by Ray Metcalfe
Judge rules "Corrupt Bastards" be tried separately
Ted Stevens under criminal investigation for corruption
Ted Stevens & Corruption: Move Over Duke Cunningham
Ted Stevens and Don Young Fail to Provide 'Honest Services'
FBI in Alaska closing in on Ted Stevens' son Ben
Legislators still stumping for VECO - By Ray Metcalfe
© AlaskaReport News