Sedwick denies Pete Kott's retrial request
November 9, 2007
U.S. District Court Judge John Sedwick on Thursday denied a request for a retrial in the corruption case against former Alaska Rep. Pete Kott.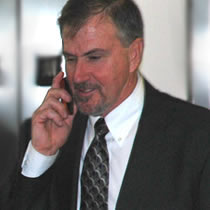 Jim Wendt, Kott's attorney, had asked Sedwick to reconsider Kott's Sept. 25th conviction on bribery, conspiracy, and extortion charges.
Wendt was asking for either an acquittal or a retrial.
Both were denied.
Kott's sentencing is December 7th, 2007.
AUDIO:
Bill Allen and Pete Kott phone call - August 30, 2006
Allen calls Kott the day Allen is confronted by the FBI - Allen called numerous state and federal lawmakers to try to get them to confess to previous crimes. "Remember, what we talked about three, four, five weeks ago, we'd just add on X-amount, I forget what it was exactly, to your bill or something."
The next day, the FBI raids began.
AlaskaReport's ongoing Alaska corruption coverage:
Corrupt Bastard Club's Extensive List Of Crimes
Pete Kott guilty of bribery, conspiracy, and extortion
Kott Jr. unbelieveable on witness stand
Ted Stevens implicated in bribery during Kott trial
Ben Stevens has accepted bribes - By Ray Metcalfe
Judge rules "Corrupt Bastards" be tried separately
Ted Stevens under criminal investigation for corruption
Ted Stevens & Corruption: Move Over Duke Cunningham
Ted Stevens and Don Young Fail to Provide 'Honest Services'
FBI in Alaska closing in on Ted Stevens' son Ben
Legislators still stumping for VECO - By Ray Metcalfe
© AlaskaReport News
---