Pete Kott sentenced to 6 years for bribes
December 7, 2007
Alaska's former speaker of the House, Pete Kott, was sentenced Friday to six years in federal prison for his convictions on bribery, conspiracy, and extortion charges in September.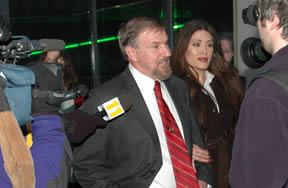 Kott was also ordered to pay a $10,000 fine, ordered to receive alcoholism treatment, and was given three years' probation.
U.S. District Judge John Sedwick told the court that he found that Kott had committed perjury in his testimony during his September 25th trial and gave him a stiffer sentence for it.
Kott was convicted for accepting around $12,000 in financial benefits in exchange for his votes and influence on 2006's Petroleum Profits Tax.
Kott, along with multiple unindicted co-conspirators, dubbed themselves the "Corrupt Bastards Club" and even had hats made with a "CBC" logo on them.
The massive FBI corruption investigation as of today has snagged two of the state's three members of Congress, one of their aides the ex-president of the state Senate, four state legislators, and two VECO executives.
AUDIO: Prosecutor Nicholas Marsh from the Justice Department's Public Integrity Section
"What we saw here and what the jury convicted Mr. Kott of - was an unusual and extraordinary, outrageous, egregious pattern of self-serving conduct."

AUDIO: U.S. District Judge John Sedwick explaining his thoughts on Kott's perjury
"Having listened to that testimony, I am utterly convinced that at the trial, with respect to this payment, Mr. Kott gave false testimony under oath."

AUDIO: Pete Kott speaking to the court before sentencing
"...all my actions that I took while a member of the Legislature on the House floor, I took and truly felt that I did so in the best interests for the citizens of Alaska and the state of Alaska"

AlaskaReport's ongoing Alaska corruption coverage:
Corrupt Bastard Club coverage and links
A Culture Club of Corrupt Bastards
Convicted Kott maintains innocence
Prosecutors want harsh sentence for crooked Kott
Kott Jr. unbelieveable on witness stand
Ted Stevens implicated in bribery during Kott trial
Ben Stevens has accepted bribes according to Ray Metcalfe
Ted Stevens under criminal investigation for corruption
Ted Stevens & Corruption: Move Over Duke Cunningham
Legislators still stumping for VECO - By Ray Metcalfe
© AlaskaReport. All Rights Reserved.
---