March 5, 2008
Jim Clark pleads guilty to conspiracy
Former Alaska governor Frank Murkowski's chief of staff, Jim Clark, became a convicted felon Tuesday as he pleaded guilty to conspiring to arrange for corrupt oilfield contractor VECO to pay $68,000 for consultants and polls on Murkowski's 2006 re-election campaign.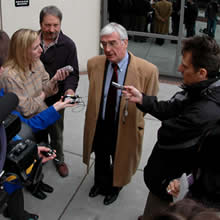 "I've got a lot of atonement to do," Clark, 64, said after his plea outside the Anchorage Federal Courthouse Tuesday in a chat session with reporters.
Clark also claimed that he never spoke to Murkowski about the illegal polls "I never spoke to governor Murkowski about what I've been charged with here because I wasn't very proud of it at the time and he expected, he trusted me to do things the right way and in this case I didn't."
Poller David Dittman doesn't buy it "My personal thought is just knowing the governor and how close he was to Jim and just how the governor is, it would just be hard to believe Jim would just take off on his own and do this," Dittman told ADN.com.
Governor Sarah Palin released the following statement "This is an indication that the federal corruption probe is very far reaching. It unfortunately proves what many had speculated was true. This reinforces our commitment to ensure that we serve Alaskans in a manner that's expected of state leaders."
Clark faces five years in prison and a $250,000 fine, but the government said his contrition and assistance could knock more than a year off his time and eliminate most of the fine. Clark said he expects to hear from the bar association about his law license.
For more see KTUU.com's story
© AlaskaReport.com All Rights Reserved.
AlaskaReport's ongoing corruption coverage:
Corrupt Bastard Club coverage and links
A Culture Club of Corrupt Bastards
False Advertisement: Lies Prop Up Failing Campaign of Alaska Governor Frank Murkowski
Frank Murkowski ousted in a humiliating defeat to Sarah Palin
Ted Stevens and Don Young Fail to Provide 'Honest Services'
Lisa Murkowski Exposed In Kenai River Land Scam
Lesil McGuire made "veiled threats" against witness: FBI
VECO head pleads to bribes to Ben Stevens and cohorts
Ben Stevens has accepted bribes by Ray Metcalfe
Ted Stevens & Corruption: Move Over Duke Cunningham
Legislators still stumping for VECO - By Ray Metcalfe
---