May 30, 2008
Alaska Democratic Party calls on Stevens to lift veil of secrecy on his $2.3 million foundation
Ted Stevens Foundation Takes Unlimited & Anonymous Donations From Corporations And Lobbyists Banned From Contributing To Political Campaigns
As the issue of ethics heats up in the Alaska Senate race, the Alaska Democratic Party (ADP) today called for full disclosure of donation and expenditures for the Ted Stevens Foundation. The Ted Stevens Foundation was founded in 2000 with its first event consisting of a fundraiser with lobbyists in 2004. As of 2005, the foundation's net assets reached $2.3 million. Today, the ADP charged that the Stevens Foundation uses an ethics loophole allowing those who donate to seek favors from Congress.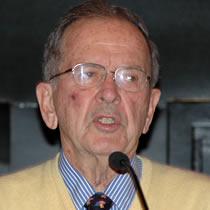 "Alaskan families have been kept in the dark, and they deserve full disclosure from their public officials," said Bethany Lesser, spokeswoman for the ADP. "The Ted Stevens Foundation could be a wonderful charity or a Congressional pay-to-play loophole. With the lack of disclosure, who knows? Senator Stevens is currently under investigation, and it is not unreasonable that he disclose who has given to the foundation, how much they have given, and how the money has been spent."
The Ted Stevens Foundation
In March 2004, a group of lobbyists that were former Stevens' aides organized a $5,000 a plate dinner to benefit a charity called Ted Stevens Foundation. Bill Canfield, a former Stevens' aide and board member, said the organization would be primarily devoted to the preservation of Ted Stevens' papers. Yet Canfield did not dispute that people might give to the foundation to gain influence with Stevens, saying, "The notion that people are coming to curry favor with him may be true. I don't know. You'd have to ask the invitees." [ Anchorage Daily News, "Lobbyists Flock To Nonprofit; Fund-Raiser: Does A Check To Stevens Foundation Buy Influence?" March 6, 2004]
The foundation's founding president was Tim McKeever, a lobbyist and treasurer and spokesman for Stevens' reelection committee. McKeever expressed that, "The foundation's purposes are to honor and recognize the career of Sen. Stevens and to engage in charitable activities that support and carry on some of the things he has done in the Senate." [ Anchorage Daily News, "Lobbyists Flock To Nonprofit; Fund-Raiser: Does A Check To Stevens Foundation Buy Influence?" March 6, 2004] McKeever served as the chairman of the Ted Stevens Foundation until 2006. The foundation failed to file its registration docs or pay fees from 2004 to 2007, according to the Alaska Department of Law. McKeever said it was an oversight. [Sunlight Foundation Web Site, "Out of Compliance: Nonprofit with ties to Stevens' PAC, Tardy on Paperwork and Fees to the State of Alaska " http://realtime.sunlightprojects.org/2007/07/23/out-of-compliance-nonprofit-with-ties-to-steven%E2%80%99s-pac-tardy-on-paperwork-and-fees-to-the-state-of-alaska/]
In 2002 Ted Stevens Foundation received a $45,000 donation from Stevens' Political Action Committee (PAC), the Northern Lights PAC. In 2003, its net assets were $144,000, which jumped to $1.7 million in 2004 and $2.3 million in 2005. [Beyond Delay Web Site, "Ted Stevens R-AK" http://www.beyonddelay.org/node/307; Return of Organization Exempt From Income Tax, "Part I: Net Assets," The Ted Stevens Foundation, 2003-2005]
Unlike donations to a political campaign, donations to the Ted Stevens Foundation are unlimited, can be accepted from corporate entities banned from contributing to campaigns, are anonymous, and are tax deductible. A spokesman for the Center for Public Integrity criticized the foundation, saying, "Anytime you have a situation where somebody can contribute vast amounts of money to a politician who is still in office, even if it's not directed to a campaign but going into a foundation with his name on it, it's a concern," [Anchorage Daily News, "Lobbyists Flock To Nonprofit; Fund-Raiser: Does A Check To Stevens Foundation Buy Influence?" March 6, 2004] Furthermore, Frances Hill, a University of Miami law professor who specializes in nonprofits, said that special interests give to charities of politicians because they have to pay to play, saying, "If you're the Red Cross or the Boy Scouts, people give to you because they believe in the cause. Do these corporations give money to all of these candidate charities because they believe in the cause, or because they have no choice if they want to move legislation?" [ Anchorage Daily News, "Lobbyists Flock To Nonprofit; Fund-Raiser: Does A Check To Stevens Foundation Buy Influence?" March 6, 2004]
Even former Senator Bob Dole explained how difficult it was to raise money for his charity after leaving office, saying, "We raised about $10 million. And it worked very well as long as I was in the Senate. But once I left the Senate, I wasn't voting on anything, so many of the corporations said, 'Well, that guy can't do anything for us.'" [ Anchorage Daily News, "Lobbyists Flock To Nonprofit; Fund-Raiser: Does A Check To Stevens Foundation Buy Influence?" March 6, 2004]
In March 2004, Roll Call reported that a fundraiser for Ted Stevens Foundation raised at least $2 million. The event organizers said that they complied with senate ethics rules. A second Roll Call article reported that the Senate Ethics manual specifically forbade lobbyists from donating to a member's charity: "A lobbyist or lobbying firm may not contribute to a member's charitable fund or make a contribution in lieu of honoraria to such a fund where the fund is maintained or controlled by the member." [Roll Call, "Lobbyists Help Stevens Charity," March 11, 2004] However, the rules went on to say that the committee had not yet determined the definitions of "maintained or controlled" and would determine issues on a case-by-case basis. [Senate Ethics Manual, "Chapter 3: Establishment of Charitable Foundation by a Member," 2007] This vagueness allowed the Ted Stevens Foundation to take money from lobbyists. [Roll Call, "Lobbyists Help Stevens Charity," March 11, 2004 Roll Call, "Members Feel Very Charitable," March 16, 2004]
In March 2004, the Washington Post editorialized against the Ted Stevens Foundation, questioning the real motives of people attending the event. Specifically, the editorial said, "The lawmakers-raising-money-for-charity racket has taken off in recent years, and - while there's an element of extortion in members of Congress hitting up lobbyists for donations to favored charities - it's hard to complain about money going for cancer research and the like. It's a good deal sleazier, though, when the pet charity turns out to be connected to the lawmaker himself... When foundations like this are set up for the benefit of sitting lawmakers, requests for contributions have the inevitable air of a shakedown: What lobbyist with an interest in appropriations matters would fail to give to Mr. Stevens' charity? Meanwhile, the money can come from corporations that are prohibited from giving directly to the senator's reelection campaign, and in far larger denominations than ordinary campaign contributions. All of this activity is subsidized by the taxpayers, since contributions to the fund are tax-deductible. Most disturbing of all, the Stevens foundation - unlike some of the other charities with ties to lawmakers - doesn't plan to disclose its donors or the amounts they give." [The Washington Post, "Ponying Up For Ted," March 5, 2004]
The Ted Stevens Foundation changed its name in December 2006 to the North to the Future Foundation. Only financial statements from 2003 - 2005 have been available.
From a Alaska Democratic Party press release
© AlaskaReport. All Rights Reserved.
AlaskaReport's ongoing Alaska corruption coverage:
AlaskaReport.com's Corrupt Bastard Club Stories
Alaska fisheries crimes by Stevens under investigation
Alaska Oil Executive Bribed Senator Ted Stevens
Ted Stevens under criminal investigation for corruption
Ted Stevens & Corruption: Move Over Duke Cunningham
Ted Stevens and Don Young Fail to Provide 'Honest Services'
FBI in Alaska closing in on Ted Stevens' son Ben
Legislators still stumping for VECO - By Ray Metcalfe
Alaska fishermen shout at Ted Stevens in Kodiak. Stevens later lied to a reporter and denied the incident occurred.
---
---