CREW asks McConnell to remove Ted Stevens from committee assignments
September 17, 2007
Washington, DC - A citizen watchdog group is asking that Alaska Senator Ted Stevens be removed from his committee assignments in light of the criminal investigations by the FBI and IRS.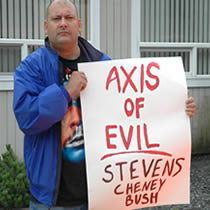 Ted Stevens is under multiple criminal investigations for corruption, conspiracy, and bribery.
From a CREW press release: Today, Melanie Sloan, the executive director of Citizens for Responsibility and Ethics in Washington (CREW), sent a letter to Senate Minority Leader Mitch McConnell (R-KY) asking that he remove Senator Ted Stevens (R-AK) from his committee assignments and refer the criminal matters surrounding the FBI investigation into Sen. Stevens to the Senate Ethics Committee.
Sloan sent the letter in response to testimony on September 14, 2007 by former VECO CEO Bill Allen who admitted in court that VECO employees worked on Sen. Stevens' home and that VECO paid for some of the renovations. The renovation of Sen. Stevens' Girdwood, Alaska home has been of the subject of federal investigations.
AlaskaReport's ongoing Alaska corruption coverage:
Ted Stevens' son Ben took bribes from VECO
Alaska Senate president Ben Stevens has accepted bribes from seafood processors, according to Ray Metcalfe
Judge rules "Corrupt Bastards" be tried separately
Ted Stevens under criminal investigation for corruption
Ted Stevens & Corruption: Move Over Duke Cunningham
Ted Stevens and Don Young Fail to Provide 'Honest Services'
FBI in Alaska closing in on Ted Stevens' son Ben
Legislators still stumping for VECO - By Ray Metcalfe
© AlaskaReport News
---