Kott Jr. unbelieveable on witness stand
Two jurors shook their heads when Kott Jr. said "No, no-no-no-no-no," in response to Bill Allen offering to give him free cash
By Dennis Zaki in Anchorage - The son of former Alaska legislator Pete Kott testified Tuesday during Kott's federal corruption trial and didn't do his father any favors with his inconsistent and shaky testimony.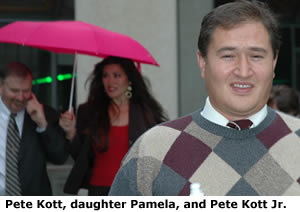 Kott is being tried on four federal charges: conspiracy to solicit financial benefits for his service as a legislator, extortion "under color of official right," wire fraud, and bribery.
Kott Jr's testimony regarding a check for $7,993 contradicted that of former Veco executives Bill Allen and Rick Smith who pleaded guilty to bribing Kott and several others in the Alaska state legislature.
Kott Jr. said he and his father discussed helping Kott's re-election campaign and how he would need some money to leave his flooring business to do that.
Kott said he told his father "I have to find a legal way to get some money"
Peter Kott Jr. claimed that his father came home one day in July and handed him $7,993 in cash as an advance for a future flooring job (that was never completed, or attempted to be completed) at Rick Smith's home and a job for Sharon Durant.
The Durant job was never explained in court.
In Smith's testimony last week, he said he met with Kott Sr. to discuss a way to get money to Kott Jr. so he could keep working on his father's re-election campaign.
Smith says that he and Pete Kott met at a bar and planned a scam to pay Kott $7,793 by creating a phony invoice for refinishing work on his floor.
Smith added later added that his floors didn't need to be redone and Allen testified to the that.
"They didn't need to because you go into Rick's house and you have to take your shoes off," Allen said.
Federal prosecutor Nicholas Marsh doubted his story along with at least two jurors
Kott Jr. claimed Allen suggested he take an illegal payment at a meeting at Allen's home in July.
"He said, 'Why don't I just give you some cash?' I said, 'No, no-no-no-no-no,'" Kott Jr. claimed.
He said that he and his father were not about to compromise themselves by doing something illegal.
Two jurors shook their heads with a smirk on their face when Kott Jr. said that.
It was the overcompensating way he said it that didn't seem right, the jury wasn't buying it either.
Prosecutor Nicholas Marsh went after his story.
Marsh asked him if he never did the job for Smith, why didn't pay the money back?
"I will give it back," Kott Jr. said.
Marsh sharply shot back, "But you haven't."
Kott conceded that was true without offering an explanation.
Kott Jr. also acknowledged that he had never contacted Smith about the job, and never stopped by his home to see the floor.
Asked by Marsh why he didn't repair the floor or attempt to, he said, "We intended to do the floor, I didn't force the issue."
"If things work out, I'd be happy to go back in," he said.
Kott's son was at ease under questioning by defense lawyer Jim Wendt, but after the Marsh's questions, he seemed tired and was averting his eyes. Kott's trial resumes on Wednesday.
AlaskaReport's ongoing Alaska corruption coverage:
Ted Stevens' son Ben took bribes from VECO
Alaska Senate president Ben Stevens has accepted bribes from seafood processors, according to Ray Metcalfe
Judge rules "Corrupt Bastards" be tried separately
Ted Stevens under criminal investigation for corruption
Ted Stevens & Corruption: Move Over Duke Cunningham
Ted Stevens and Don Young Fail to Provide 'Honest Services'
FBI in Alaska closing in on Ted Stevens' son Ben
Legislators still stumping for VECO - By Ray Metcalfe
© AlaskaReport News
---