FBI hovering over Alaska Senator Ted Stevens
June 20, 2007
Anchorage, Alaska - Senator Ted Stevens' home remodeling project in Girdwood, Alaska is being scrutinized by federal prosecutors in Washington as part of a Justice Department investigation into bribery, extortion and other corruption charges against Republican politicians in the state.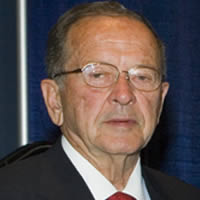 Stevens' serious legal troubles have forced him to ask the Senate ethics committee to review his finances from last year, allowing him to delay filing his official disclosure forms.
Stevens has hired criminal defense lawyers and finally admitted in an interview to the Washington Post that the FBI asked him to preserve records as part of a widening investigation into Alaskan political corruption.
"They put me on notice to preserve some records," Stevens said in the Post interview. The Post confronted him after learning about the FBI request.
The FBI has also questioned former Stevens aides about Bill Allen, the indicted former head of VECO who has pleaded guilty to bribing Alaska legislators.
Contractors who worked on the Girwood project said the FBI asked them to turn over their records from the job.
Another contractor says Bill Allen, hired him to complete the framing and most of the interior carpentry at Stevens' home. But the company in charge of the remodel, Christensen Builders Incorporated, says as far as they know, the senator paid all his bills.
Alaska FBI spokesman Eric Gonzalez says his agency will not confirm nor deny any aspect of a pending investigation.
Stevens' son, former Alaska senate president Ben Stevens, is also awaiting his arrest on corruption, extortion, tax evasion, and bribery charges.
Related Stories:
Ted Stevens & Corruption: Move Over Duke Cunningham

Ted Stevens and Don Young Fail to Provide 'Honest Services'

FBI in Alaska closing in on Ted Stevens' son Ben

Four more warrants issued as criminal probe intensifies after FBI raids on Alaska legislators

Alaska Senate president Ben Stevens has accepted bribes from seafood processors, according to Ray Metcalfe
© AlaskaReport News
---