A Culture Club of Corrupt Bastards
Alaska's Governor Palin spoke recently about the political earthquake shaking Alaska's top politicians:
By Terry Haines - "It's a generational shift that's going on, but it's also a values shift that's going on. The "culture of corruption" that has become ingrained in Alaska politics is a poor example to the rest of the nation as the state tries to be taken seriously in negotiations over a natural gas pipeline."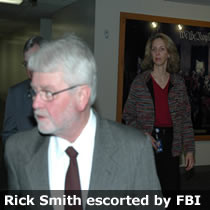 "We have to prove that we are responsible, that we are trustworthy, that we are truthful up here," she said. "Our actions have to speak louder than our words."
What is she talking about?
Well, Rick Smith, an oil service company executive recently convicted on corruption charges, admitted in an Anchorage court recently that he had bribed State Senator Ben Stevens (son of U.S. Senator Ted Stevens) $243,250 to lobby colleagues and for "official acts before the legislature".
"That's all illegal, isn't it?" asked the attorney questioning him.
"I think that's the gist of it." Smith deadpanned.
Last year Alaska's House passed a bill setting a tax rate of 23.5 percent on oil profits. Each percentage point is worth another $100 million annually to the state. Oil service company executive Bill Allen said in a signed confession that he and Ben Stevens were on the phone sketching out plans to kill the bill while the House was still working on it. They came to terms on Ben's bounty on the dead legislation: a top executive job at Allen's company, VECO. And then Ben hung up and went to work doing what he does best: being abrasive and obnoxious.
"In caucus, Ben railed on us for anything over 20 (percent)," said Sen. Gene Therriault, a Fairbanks Republican who was a member of Stevens' majority. "It finally got so unpleasant we just stopped having caucuses."
""Part of the reason I didn't push for a different result was I knew at the end of the day we had a stalemate with the other body," House Speaker John Harris R-Valdez said, frustrated with Ben's bullying. "He shouldn't have had that power; no one person should. But they let him."
Budget buyoffs amounting to over 250 million dollars for rural schools and power subsidies were put on the table if the tax rate desired by the oil companies went through. Legislators were encouraged to miss votes and accept bribes. Those who were tougher to turn, like State Representative Gabrielle Ledoux, were punished. She saw her bill protecting abandoned babies coldly killed by Rules Committee Chair John Cowdery when she refused to vote for the lower tax. Mr. Cowdery is also now under federal investigation. Overall, not ideal representative democracy.
The culture of corruption assumes that in order to win you have to play dirty. Not everyone is corrupt, of course. But if you sit on the sidelines complaining that the other kids aren't playing fair, you may end up with a clean uniform, but you won't score any points for the folks at home, either.
Of course not everyone agrees with the Governor's assessment. Sure Bill Allen was Frankensteining around Juneau day and night passing around hundred dollars bills like tootsie pops on Halloween, growling out orders to any legislator whose lapels he could clamp in his ham fists. But after all, isn't he just exercising his right to free speech?
"The governor has called it a culture of corruption, and that has really offended me," said Gary Stevens, R-Kodiak, the State Senate Majority Leader. In 2006 he worked closely with then Senate President Ben Stevens on its tarnished oil tax bill. "It looks like there may be some corruption, but that does not mean we are all corrupt," he said. "The governor should not keep saying that".
After all Ben has denied any wrongdoing. Maybe Gary believes him.
Remember when Boy George denied being gay? Despite a wardrobe made mostly of pastel scarves and Hillary Clinton hats, Culture Club's lead singer nearly cracked his pancake makeup in shock whenever it was suggested that he preferred his playtime mano a mano. Until a messy breakup with a band mate awkwardly outed him. But let's face it. Was anyone really surprised?
A messy breakup has served to out some of Alaska's biggest trout. But is anyone really surprised that a group signed to the Conoco Philips label and calling itself the "Corrupt Bastards Club" is into gangster rap? The question is not whether our legislators "are all corrupt". It is whether it can be believed that you thought a guy who took a quarter of a million dollars from VECO and then ran around Juneau working almost exclusively on their behalf was not corrupt. Ben Stevens chased public servants around the capitol like a loose pit bull. Some hands he bit. Some he licked.
Look at your own hand. A bite from Ben will heal in time. A lick might stain you forever.
AlaskaReport's ongoing Alaska corruption coverage:
AlaskaReport.com's Corrupt Bastard Club Stories
Ben Stevens Fined $150 & $150: APOC Blind to Corruption
Alaska Senate president Ben Stevens has accepted bribes from seafood processors, according to Ray Metcalfe
Judge rules "Corrupt Bastards" be tried separately
Ted Stevens under criminal investigation for corruption
Ted Stevens & Corruption: Move Over Duke Cunningham
Ted Stevens and Don Young Fail to Provide 'Honest Services'
FBI in Alaska closing in on Ted Stevens' son Ben
Legislators still stumping for VECO - By Ray Metcalfe
Alaska fishermen shout at Ted Stevens in Kodiak. Stevens lated lied to a reporter and denied the incident occurred.
© AlaskaReport News and Terry Haines
See Terry Haines' Previous Posts Here
Terry Haines is a Kodiak deckhand and representative for Fish Heads, an advocacy group dedicated to preserving the vitality of Alaska's fishing communities.
Contact Terry Haines
---