Corrupt Republican Anderson begs for mercy
October 9, 2007
Anchorage, Alaska - Alaska Republican, Tom "Corrupt Bastard" Anderson, is begging the judge for mercy before his sentencing next week.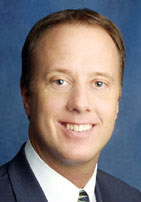 After 10 months of lying to the media, and friends, about his innocence, Anderson has now acknowledged his guilt in a sentencing memorandum filed by his attorney that he broke the law, violated the public trust and must be punished.
The former state representative was convicted of seven felonies including conspiracy to commit extortion, bribery and money laundering.
PDF: Anderson defense sentencing memo
A pre-sentence investigation report recommends he serve five to six years, but local legal experts say the judge could give him 10 to 15 years.
His lawyer is claiming in the memorandum that, except for the seven felonies, Anderson has been a "tireless and selfless representative and advocate for the people of the State of Alaska."
Anderson's sentencing hearing is Oct. 15th in Anchorage Federal Court.
AlaskaReport's ongoing Alaska corruption coverage:
AlaskaReport.com's Corrupt Bastard Club Stories
Pete Kott guilty of bribery, conspiracy, and extortion
Kott Jr. unbelieveable on witness stand
Ted Stevens implicated in bribery during Kott trial
Alaska Senate president Ben Stevens has accepted bribes from seafood processors, according to Ray Metcalfe
Judge rules "Corrupt Bastards" be tried separately
Ted Stevens under criminal investigation for corruption
Ted Stevens & Corruption: Move Over Duke Cunningham
Ted Stevens and Don Young Fail to Provide 'Honest Services'
FBI in Alaska closing in on Ted Stevens' son Ben
Legislators still stumping for VECO - By Ray Metcalfe
© By Dennis Zaki - AlaskaReport News
---