Foreman says Ted Steven's VECO remodel cost $150,000 in labor
December 26, 2007
A foreman that worked on the renovation of the home of U.S. Senator Ted Stevens , said that an oilfield-services company (VECO) provided more than $150,000 worth of labor on the project.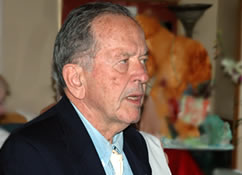 The foreman, David Anderson, testified before a grand jury investigating possible criminal conduct by Ted Stevens regarding the renovation and a contract awarded to VECO worth as much as $70 million by the National Science Foundation.
Stevens and his son Ben are under multiple criminal investigations for extortion, tax evasion, and bribery charges relating to Alaska's legislature and fisheries issues.
From the AP report .
Employees of VECO Corp., the oil contractor, provided months of work during the 2000 remodeling, which roughly doubled the size of the senator's home in Girdwood, Alaska, said David Anderson, who supervised the job.

Anderson, who said he testified before a federal grand jury about the remodeling, is a former employee and nephew of VECO founder Bill Allen.

Anderson's labor estimate is of interest to federal investigators as they examine the relationship between Allen and Stevens, who for years has ranked as one of the most powerful members of the U.S. Senate.
Bill Allen, the former head of VECO also admitted that VECO had paid some of the contractors and that he had given Stevens some "old" furniture.
Allen acknowledged in court testimony that he gave more than $400,000 to several Alaska state legislators in bribes - and for work at Stevens' house.
Allen also testified that VECO paid the bills for two contractors, a plumber and a carpenter, for work on Stevens' house.
AlaskaReport's ongoing Alaska corruption coverage:
AlaskaReport.com's Corrupt Bastard Club Stories
Ben Stevens Fined $150 & $150: APOC Blind to Corruption
Alaska fisheries crimes by Stevens under investigation
Alaska Oil Executive Bribed Senator Ted Stevens
Ben Stevens has accepted bribes - By Ray Metcalfe
Ted Stevens under criminal investigation for corruption
Ted Stevens & Corruption: Move Over Duke Cunningham
Ted Stevens and Don Young Fail to Provide 'Honest Services'
FBI in Alaska closing in on Ted Stevens' son Ben
Legislators still stumping for VECO - By Ray Metcalfe
Alaska fishermen shout at Ted Stevens in Kodiak. Stevens later lied to a reporter and denied the incident occurred.
© AlaskaReport. All Rights Reserved.
---
Alaska Weather
---