Ted Stevens' earmark buddy Jim Hayes on trial
January 26, 2008
The trial of former Fairbanks, Alaska mayor, Jim Hayes, has begun.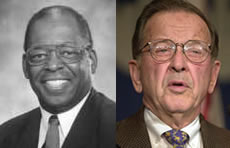 Hayes and his wife were indicted by a federal grand jury for embezzling more than $450,000 in government grants.
From the Fairbanks News-Miner:
The government alleges Hayes and his wife teamed to funnel almost a half-million dollars away from the grants, which were issued to benefit disadvantaged children. Prosecutors claimed the couple hid the spending largely by converting checks from the grants to cash and, eventually, to cashier's checks.

Hayes' wife pleaded guilty to two counts last month as part of a plea bargain and will be sentenced in March. Loeffler suggested that while she, as executive director of the nonprofit, may have been the one most directly involved in the alleged crimes, the former mayor played a major, conscious role.

"He was the only one who went to the bank" with the checks, she said.
Hayes faces 28 charges that include theft, money laundering and tax fraud.

The Federal government said the couple spent government funds on a plasma TV for the couple's home, a trip to London, a family wedding reception, construction of a new church for Hayes and to cover personal bills.

The grants came at the direction of Alaska Senator Ted Stevens.

Stevens is under multiple criminal investigations for bribery, extortion, and corruption charges relating to Alaska's legislature, kickbacks to his son Ben, a kickback to his business partner, a suspicious remodelling of his home, and various fisheries issues.

Ted Stevens provided over $2.8 million over five years in specific congressional earmarks for the LOVE Social Services youth program that Jim Hayes' son managed.

James Hayes Jr. lived in Ted Stevens' house in Washington DC while he was an aide to Stevens, and while attending Georgetown Law School.

In the first week of trial, federal prosecutors focused on documents including copies of checks, invoices and money orders that the government alleges show Hayes and his wife stole money from federal grants to help build a new church and for personal spending. The trial resumes on Monday.

© By Dennis Zaki - AlaskaReport.com All Rights Reserved.
AlaskaReport's ongoing corruption coverage:
Corrupt Bastard Club coverage and links
A Culture Club of Corrupt Bastards
Ted Stevens under criminal investigation for corruption
Don Young under criminal investigation - again
Lisa Murkowski Exposed In Kenai River Land Scam
Lesil McGuire made "veiled threats" against witness: FBI
VECO head pleads to bribes to Ben Stevens and cohorts
Ben Stevens has accepted bribes by Ray Metcalfe
Ted Stevens & Corruption: Move Over Duke Cunningham
Legislators still stumping for VECO - By Ray Metcalfe
---
---