Jim Hayes convicted on 16 counts including theft
Stevens' friend Hayes used cash straight from earmarks
A federal jury in Fairbanks, Alaska convicted former Mayor Jim Hayes Monday on 16 charges of conspiracy, theft, fraud, misapplication of federal funds, and money laundering, and failing to file tax returns.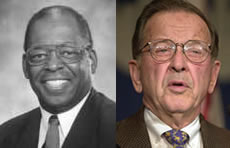 Hayes and his wife embezzled more than $450,000 in government grants sent to a nonprofit social service agency via specific earmarks from his friend, Alaska senator Ted Stevens.
Stevens himself is under multiple criminal investigations for bribery, extortion, and corruption charges relating to Alaska's legislature, kickbacks to his son Ben, a suspicious remodelling of his home, and various fisheries issues including a scam involving the SeaLife Center in Seward.

Ted Stevens provided over $2.8 million over five years in specific congressional earmarks for the LOVE Social Services youth program that Jim Hayes' son managed.

James Hayes Jr. lived in Ted Stevens' house in Washington DC while he was an aide to Stevens, and while attending Georgetown Law School.
The Hayes jury had been deliberating since last Tuesday.

Hayes was tried on 27 counts. The jury acquitted him on four and was hung on seven counts.

Hayes' sentencing is scheduled for May 2. He is expected to get between 8 to 15 years in prison.

© AlaskaReport.com All Rights Reserved.
AlaskaReport's ongoing corruption coverage:
Corrupt Bastard Club coverage and links
Ted Stevens' earmark buddy Jim Hayes on trial
A Culture Club of Corrupt Bastards
Ted Stevens under criminal investigation for corruption
Don Young under criminal investigation - again
Lisa Murkowski Exposed In Kenai River Land Scam
VECO head pleads to bribes to Ben Stevens and cohorts
Ben Stevens has accepted bribes by Ray Metcalfe
Ted Stevens & Corruption: Move Over Duke Cunningham
Legislators still stumping for VECO - By Ray Metcalfe
---
Alaska Weather
---