July 29, 2008
Alaska's Ted Stevens Indicted On 7 Counts
Crooked Republican Senator's son also under suspicion
Alaska Senator Ted Stevens has been indicted on 7 felony counts for lying to investigators after a wide-ranging investigation into ties between disgraced energy company VECO and lawmakers in Alaska.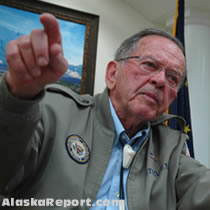 Stevens and his son Ben have been under multiple criminal investigations for extortion, tax evasion, and bribery charges relating to Alaska's legislature and fisheries issues.

View Stevens Indictment (PDF).

A federal grand jury in Washington, D.C. handed down a 28-page indictment on Tuesday.

Stevens has been charged with seven counts of making false statements on his Senate financial forms. More to follow.

© AlaskaReport.com All Rights Reserved.
---
AlaskaReport's ongoing Alaska corruption coverage:
AlaskaReport.com's Corrupt Bastard Club Stories
Ben Stevens Fined $150 & $150: APOC Blind to Corruption
Alaska fisheries crimes by Stevens under investigation
Alaska Oil Executive Bribed Senator Ted Stevens
Ben Stevens has accepted bribes - By Ray Metcalfe
Ted Stevens under criminal investigation for corruption
Ted Stevens & Corruption: Move Over Duke Cunningham
Ted Stevens and Don Young Fail to Provide 'Honest Services'
FBI in Alaska closing in on Ted Stevens' son Ben
Legislators still stumping for VECO - By Ray Metcalfe
---