July 29, 2008
CREW applauds indictment of Ted Stevens
"The citizens of Alaska deserve a senator focused on their issues, not his own criminal charges"
CREW applauds the indictment of Senator Ted Stevens (R-Alaska) on seven counts of making false statements. Each count is punishable by up to 5 years imprisonment. The indictment states that from 1999 through 2006, Sen. Stevens failed to list on his personal financial disclosure forms a significant number of gifts valued at over $250,000 made by VECO, an Alaskan oil pipeline company, and the company's CEO, Bill Allen. CREW, which has named Sen. Stevens as one of the most corrupt members of Congress, has long alleged that Sen. Stevens' conduct violated federal criminal law.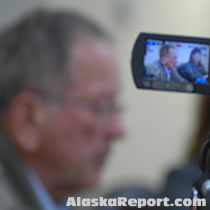 CREW executive director Melanie Sloan stated, "Although he was not charged with bribery, the indictment states that Sen. Stevens used his official position on behalf of VECO while receiving gifts from the company and its CEO. With this indictment, members of Congress have been put on notice that the Justice Department, on behalf of the American people, will not tolerate members abusing their positions for private personal gain. Sadly, the same cannot be said of the Senate Ethics Committee, which has long turned a blind eye to Sen. Stevens' offenses." Sloan continued, "The citizens of Alaska deserve a senator focused on their issues, not his own criminal charges. As a result, Sen. Stevens should resign immediately."
The indictment of Senator Stevens can be found here.
CREW's most corrupt profile of Senator Ted Stevens is available here.
Citizens for Responsibility and Ethics in Washington (CREW) is a non-profit legal watchdog group dedicated to holding public officials accountable for their actions. For more information, please visit www.citizensforethics.org or contact Naomi Seligman at 202.408.5565/ nseligman@citizensforethics.org.
From a Citizens for Responsibility and Ethics press release
© AlaskaReport.com All Rights Reserved.
---
AlaskaReport's ongoing Alaska corruption coverage:
AlaskaReport.com's Corrupt Bastard Club Stories
Ben Stevens Fined $150 & $150: APOC Blind to Corruption
Alaska fisheries crimes by Stevens under investigation
Alaska Oil Executive Bribed Senator Ted Stevens
Ben Stevens has accepted bribes - By Ray Metcalfe
Ted Stevens under criminal investigation for corruption
Ted Stevens & Corruption: Move Over Duke Cunningham
Ted Stevens and Don Young Fail to Provide 'Honest Services'
FBI in Alaska closing in on Ted Stevens' son Ben
Legislators still stumping for VECO - By Ray Metcalfe
---